DECORATIVE PAINT FINISHES
This gallery of decorative/faux painting images shows some of the infinite varieties of textures, colors, materials and techniques that can be used to create unique, original looks.
AGED PLASTER FAUX FINISH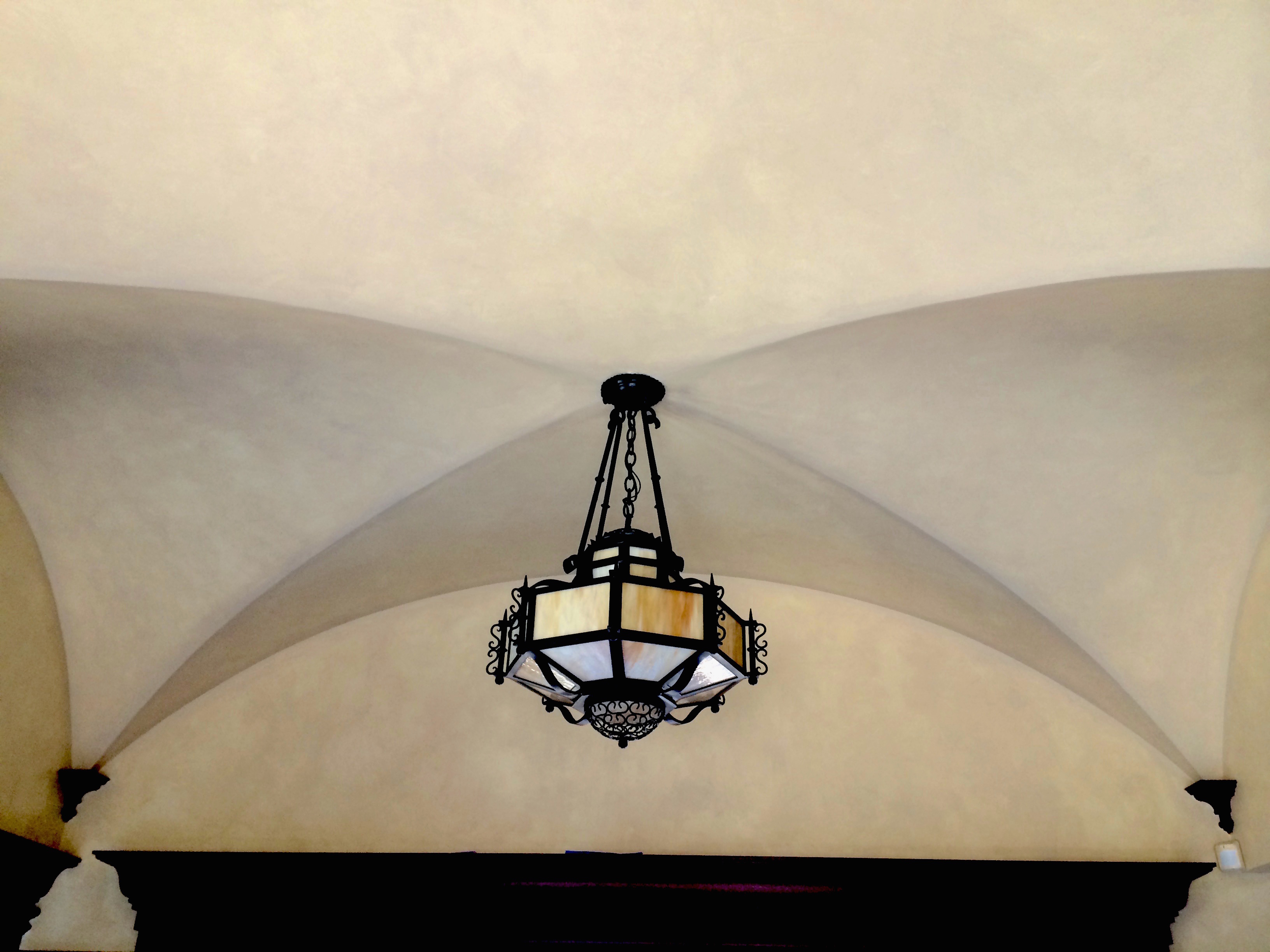 Cape Cod, MA
This large ceiling was painted with multiple layers of paint to give it the elegant look of aged plaster. The recessed areas as well as the outer edges were given a slightly darker color to give the ceiling a naturally aged appearance.
STRIED TEAL AND IRIDESCENT PAINTED FINISH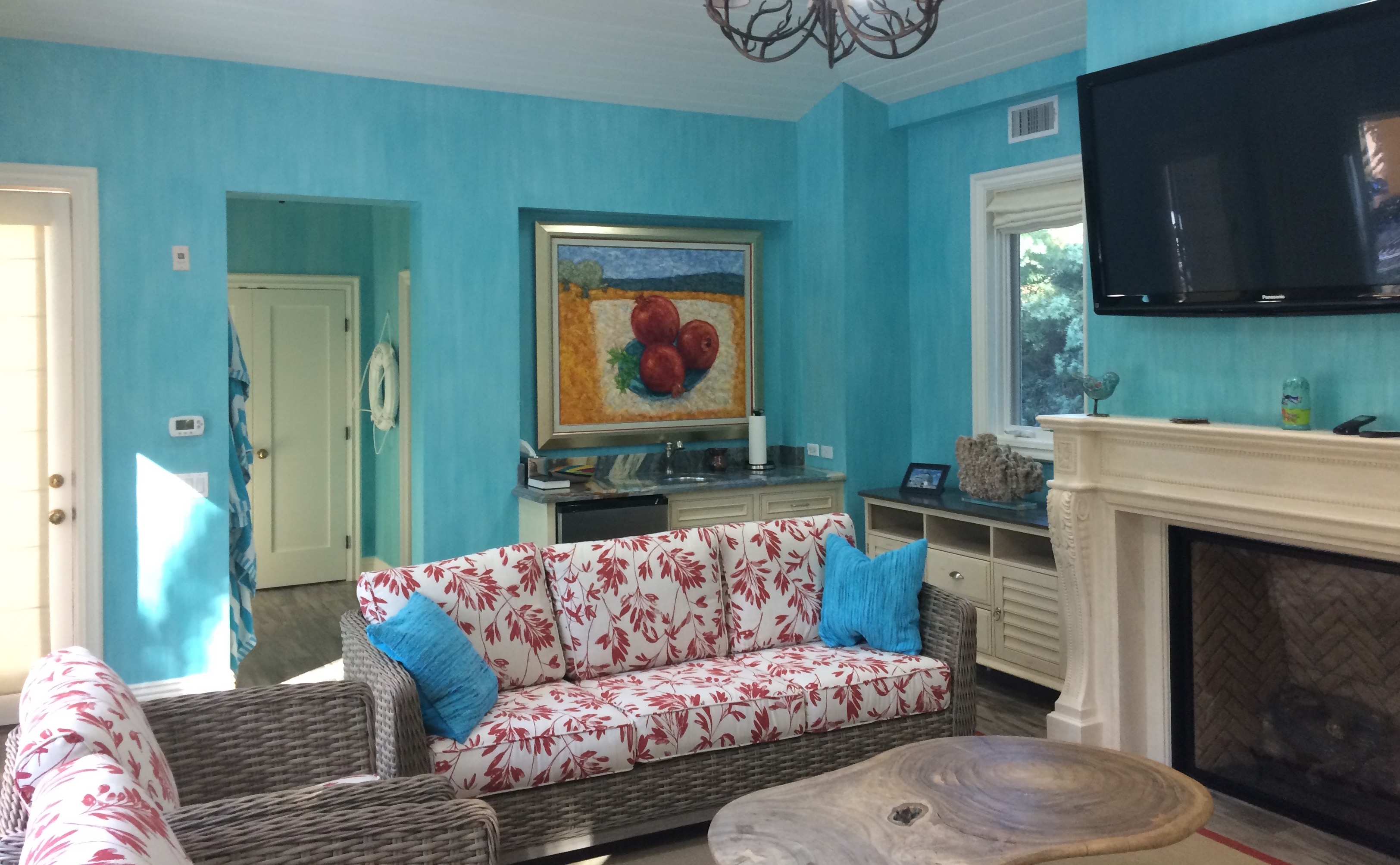 Beverly Hills, CA
The walls of this pool house were stried with several layers of iridescent paint and shades of teal to match the color of the pool water just outside its doors. It's as if the blue water of the pool continues onto the walls of the pool house. In the evening, the walls take on a subtle glow due to the use of iridescent pearl paint.
RUST DECORATIVE FINISH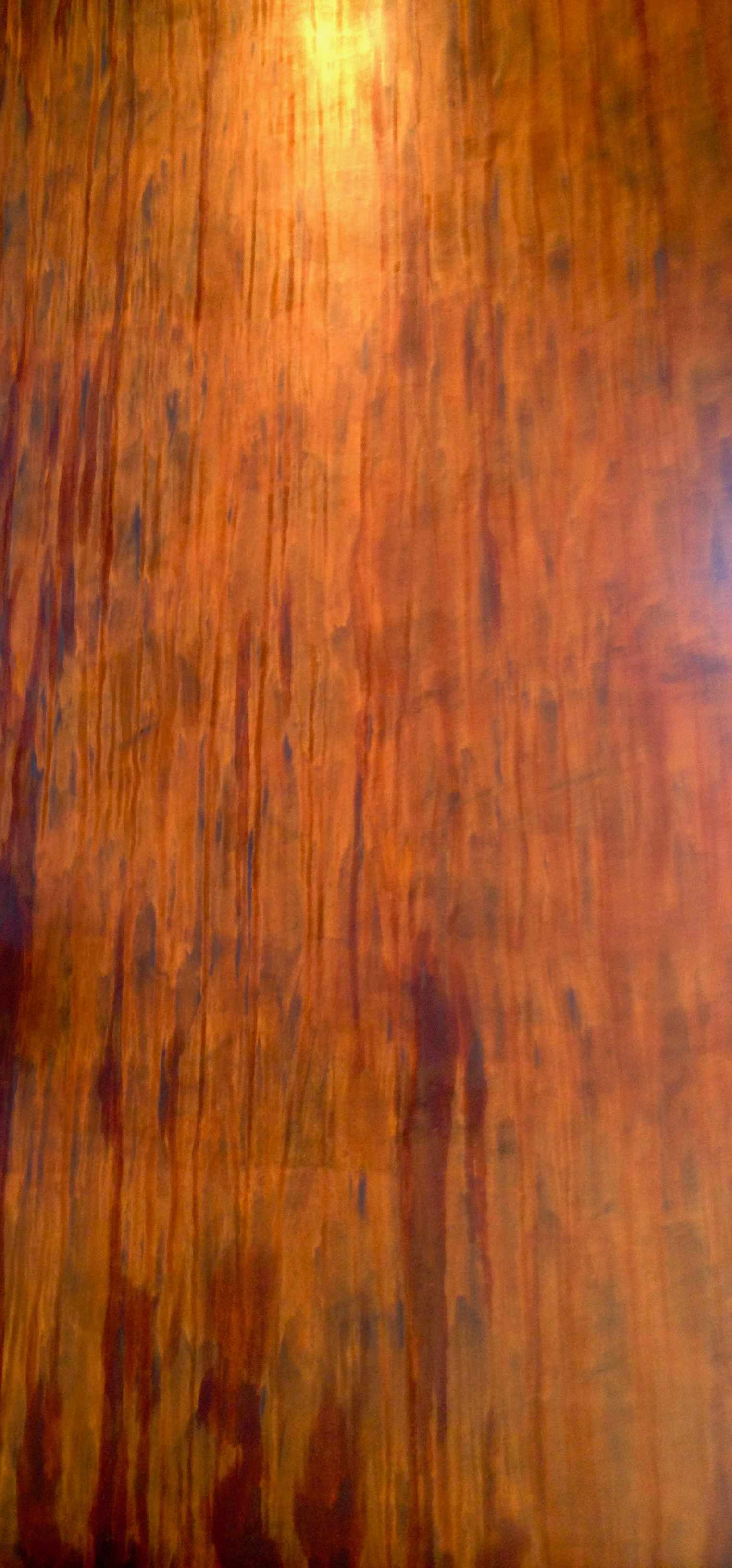 San Diego, CA
This is a small section of a large entry to a restaurant in San Diego, CA. The rust look is achieved by using a chemical reaction that gives it a beautiful colorful and authentic appearance. 1,200 sq. ft/366 sq. m.
---
CONTEMPORY LIVING ROOM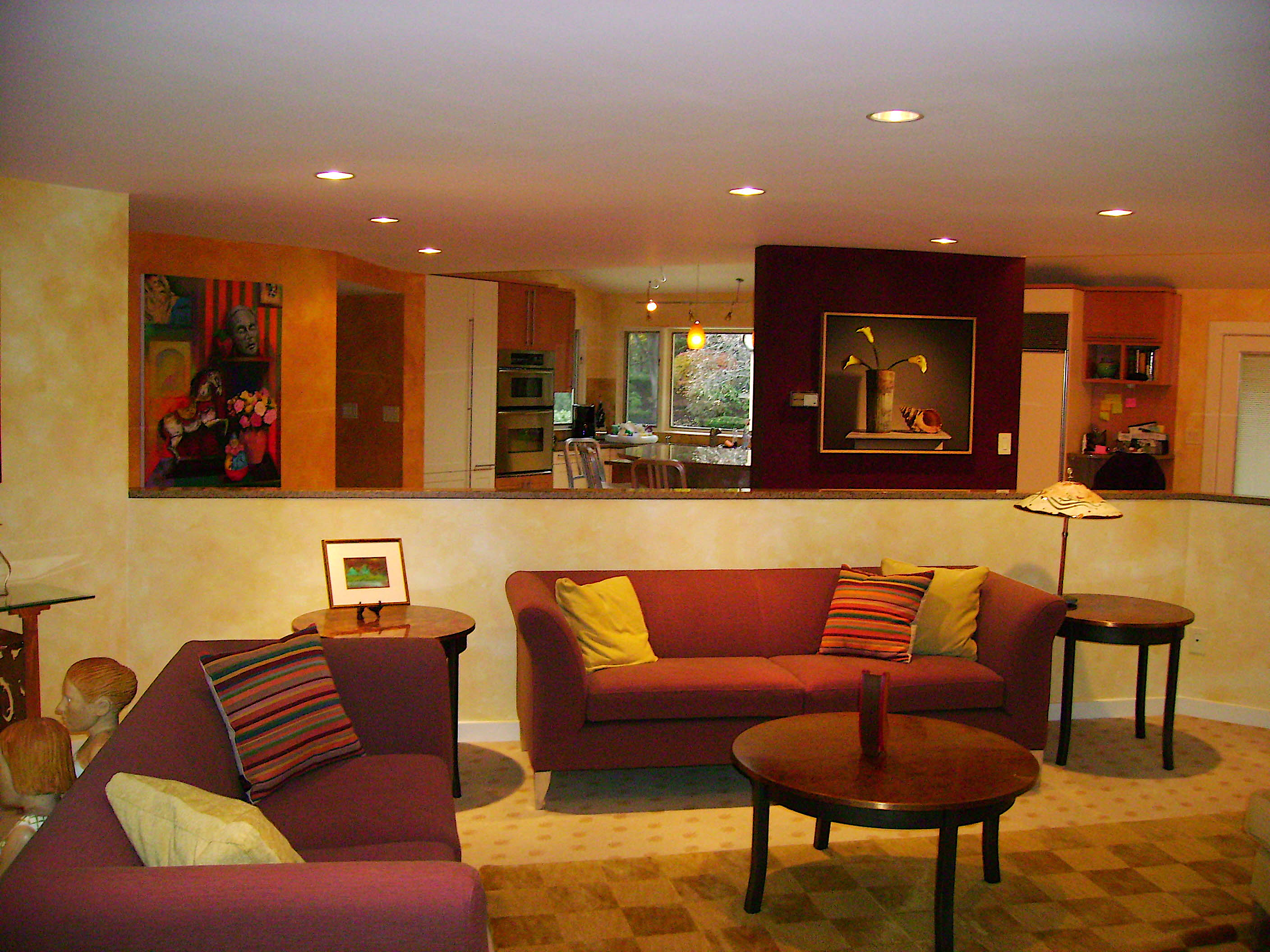 Los Angeles, CA
This combination of wall finishes in this contemporary residence were designed as a backdrop for the client's artwork. From the light-yellow brushed finish to the stippled deep aubergine accent wall. This is a perfect example of a combination of finishes working in harmony with the overall design of a space
DECORATIVE PAINTED WALLS AND CEILING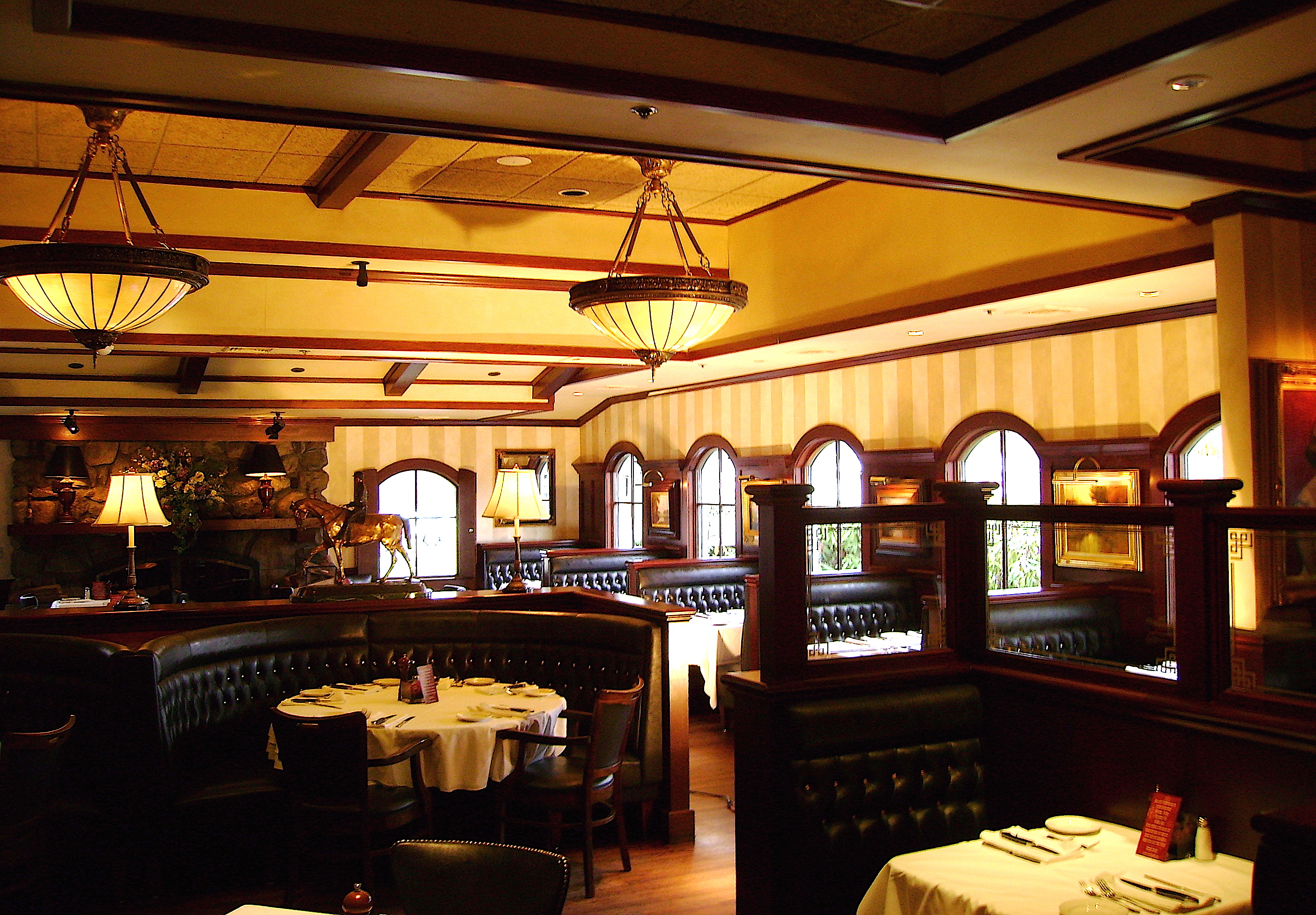 Coach Grill Wayland, MA
The walls of this restaurant were painted with a textured strip to add additional height and a warm feel. The ceiling areas were painted with a subtle crackle finish which was glazed over to add age and depth.
ART DECO POWDER ROOM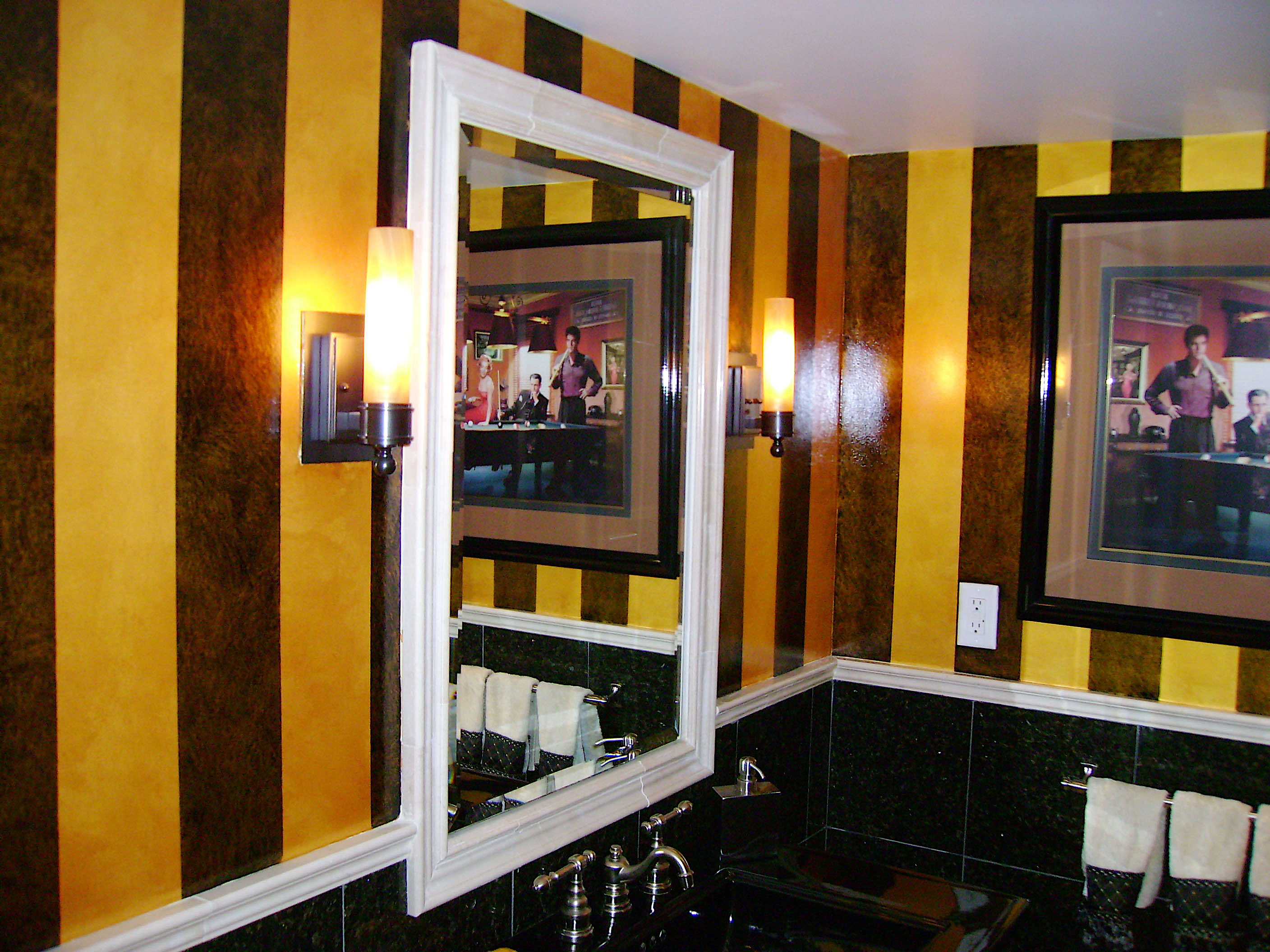 Los Angeles, CA
This powder room takes on an art deco 20's style feel with this striped design of pearled gold and black.
MASTER BEDROOM CEILING TRAY
Osterville, MA
This large ceiling tray glazed with a lightly textured aqua color which gives a sublte and calming effect to this master bedroom's decor. 384 sq. ft/117 sq. m.
AGED CONCRETE FAUX FINISH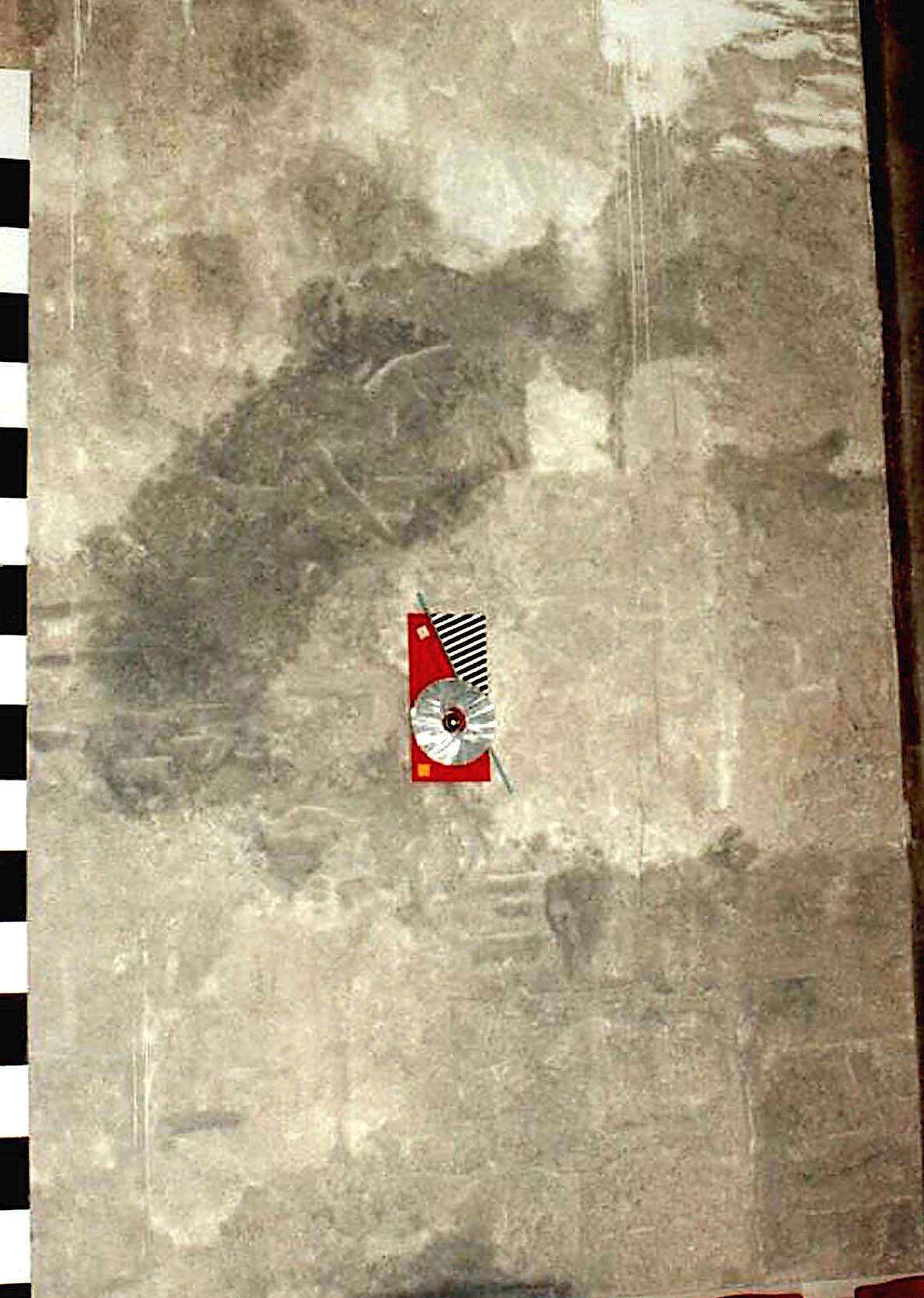 New York, NY
What appears to be an aged concrete wall is actually a painted faux wall finish to give this space an "industrial" feel. 10ft by 20ft/3m by 6m
COLOR STAINED WALL FINISH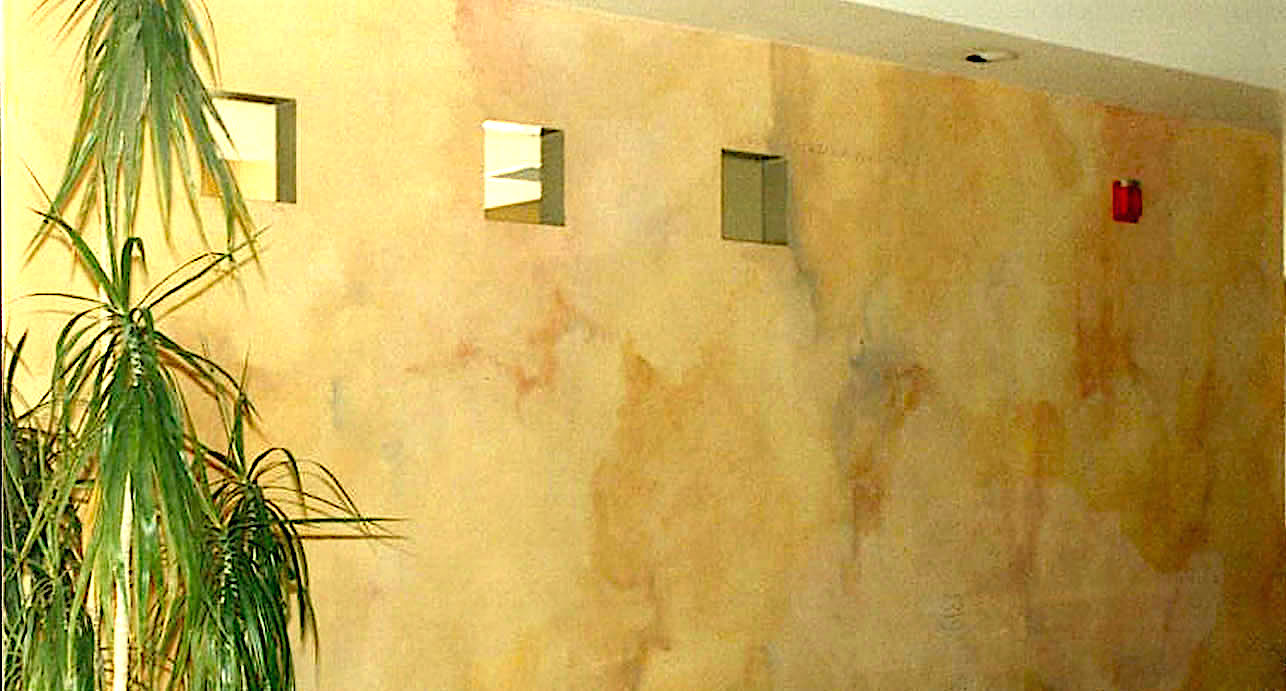 Los Angeles, CA
This accent wall is painted to look as if it has been naturally stained over time due to heavy rain and humidity.
TRADITIONAL STRIE WALL FINISH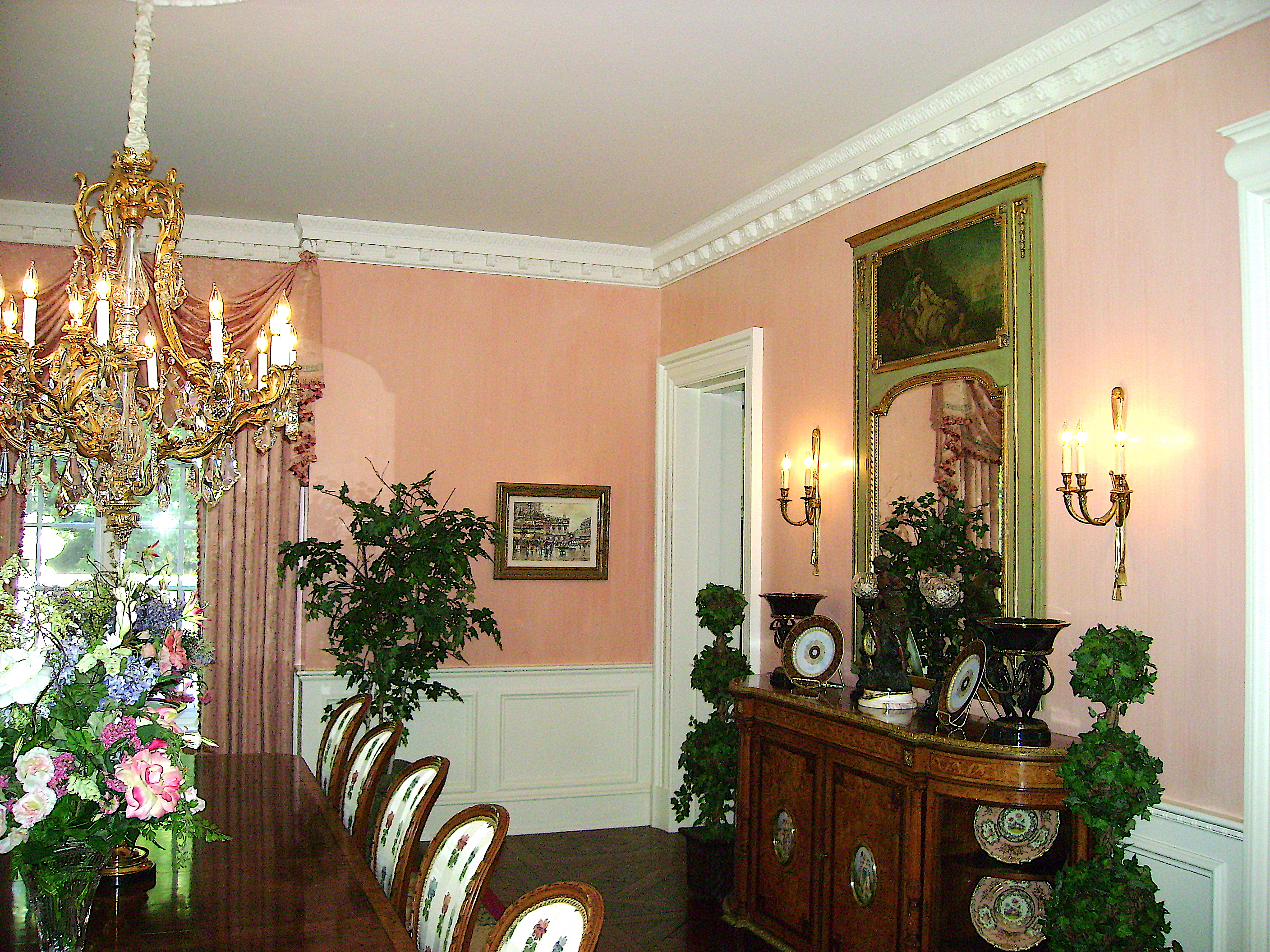 Weston, MA
This traditional strie finish was designed to exactly match the window treatment's color and texture.
OLD WORLD AGED PLASTER FAUX FINISH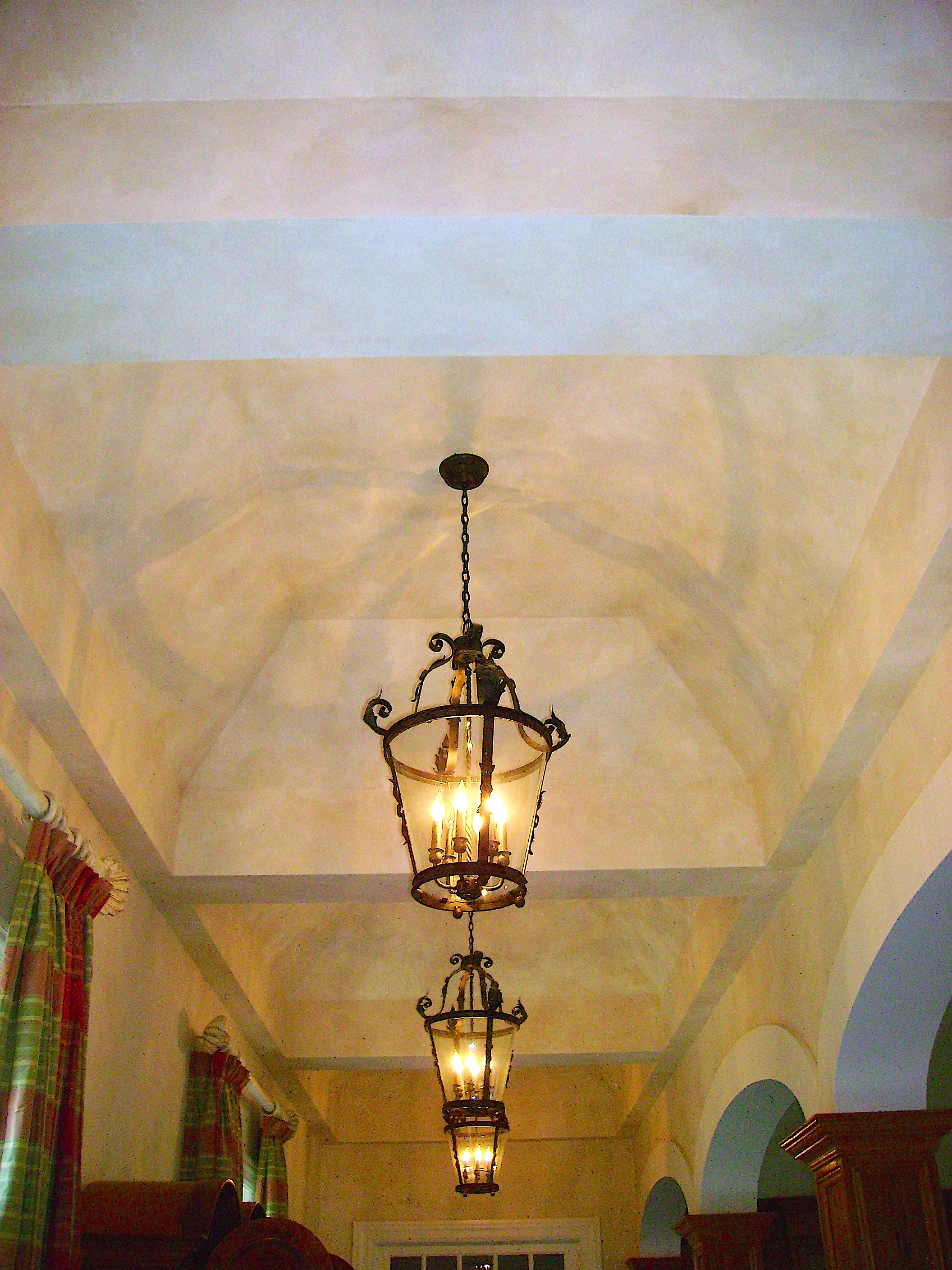 Los Angeles, CA
These ceiling vaults were painted with a light brushed finish to mimic the look and feel of aged, old world plaster. 1,250 sq. ft/381 sq. m
COLOR GLAZED WOODEN PANELS AND WOODWORK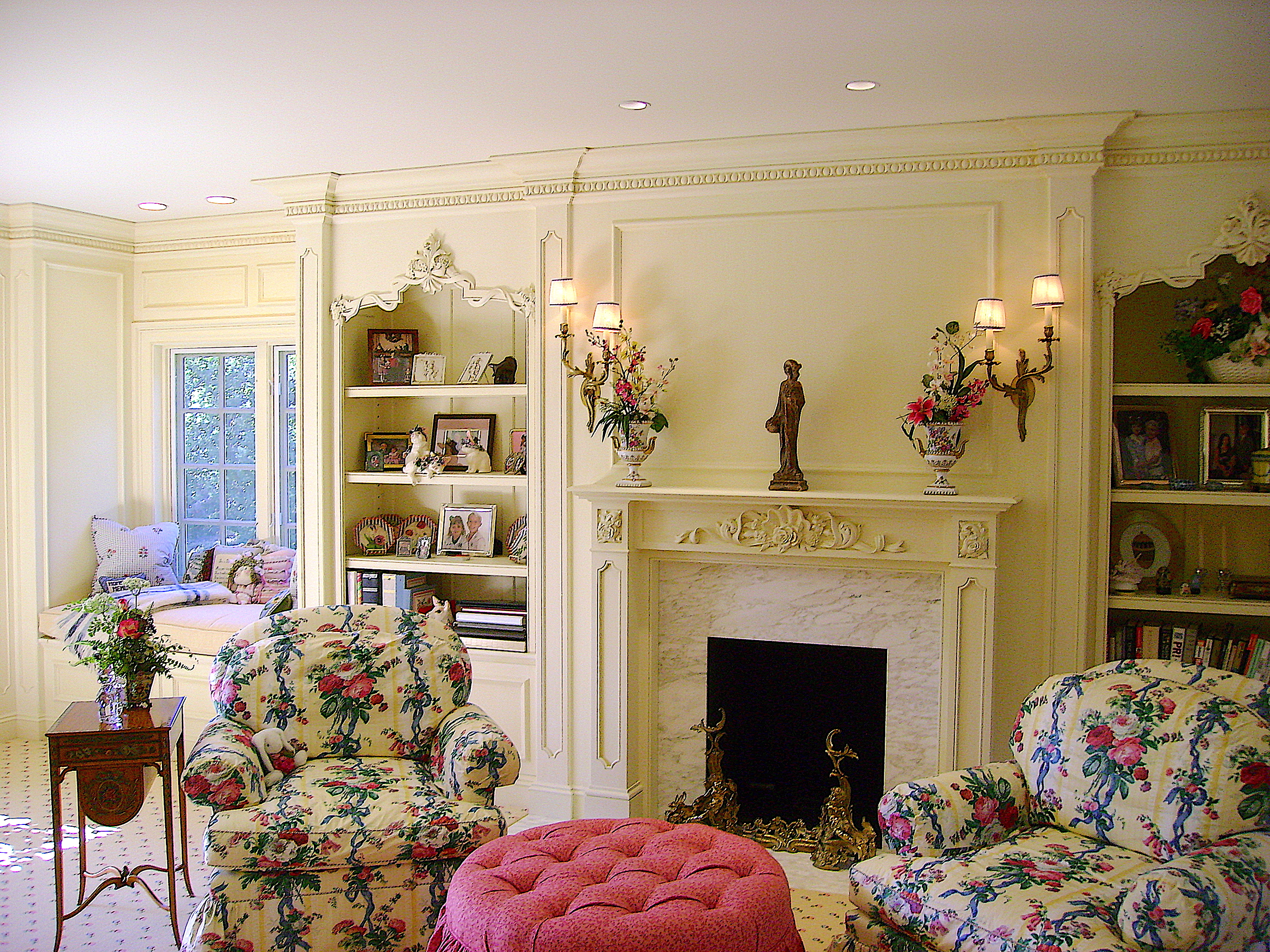 Weston, MA
The luminous quality of this painted woodwork was achieved by multiple passes of stried color giving the woodwork a warm beautiful glow.
HARLEQUIN POWDER ROOM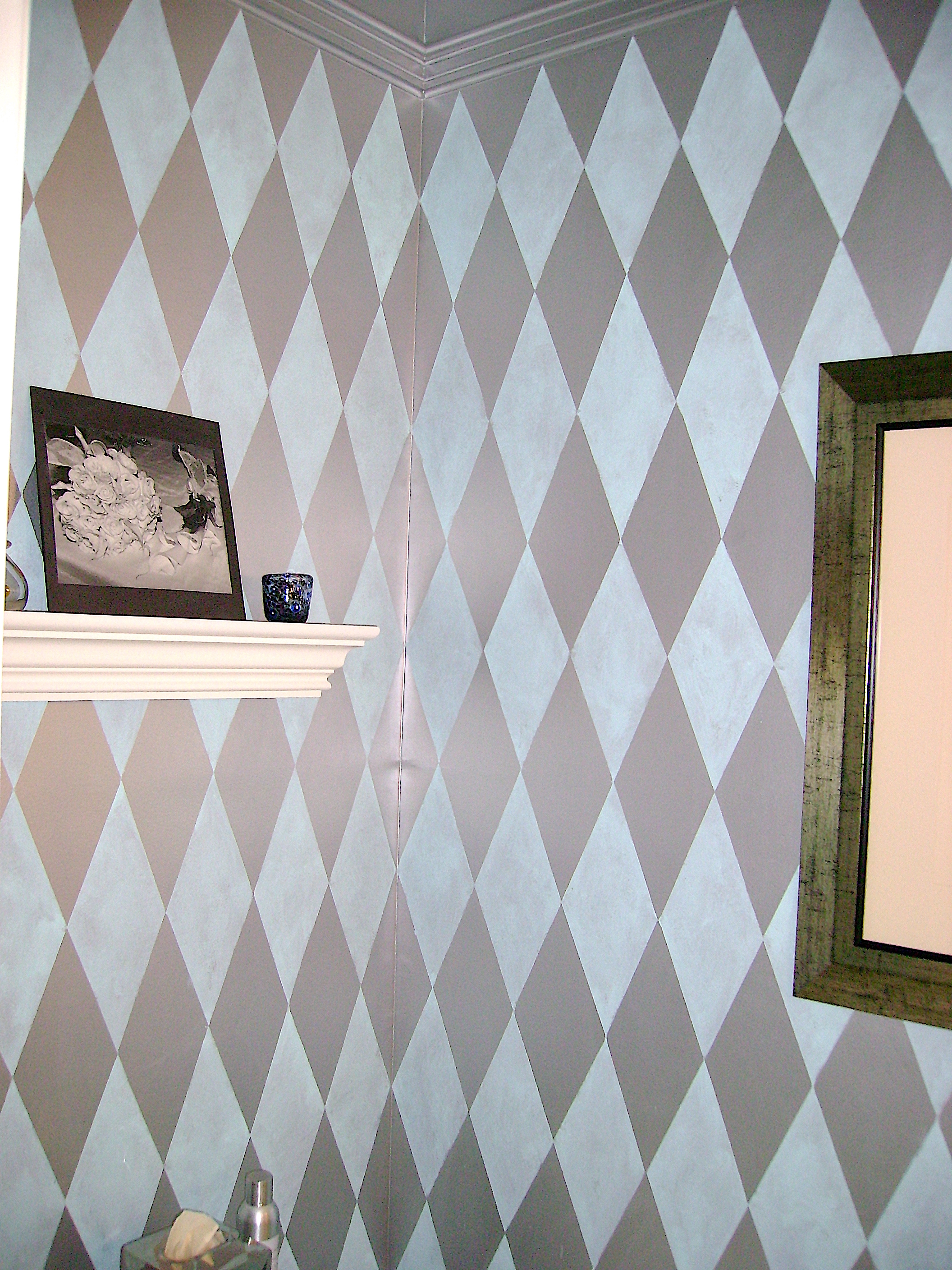 Los Angeles, CA
This silver and light blue harlequin pattern is a sophisticated and elegant finish for this powder room. 252 total sq. ft/77 total sq. m
MULTIPULE LAYERED GLAZED WALL FINISH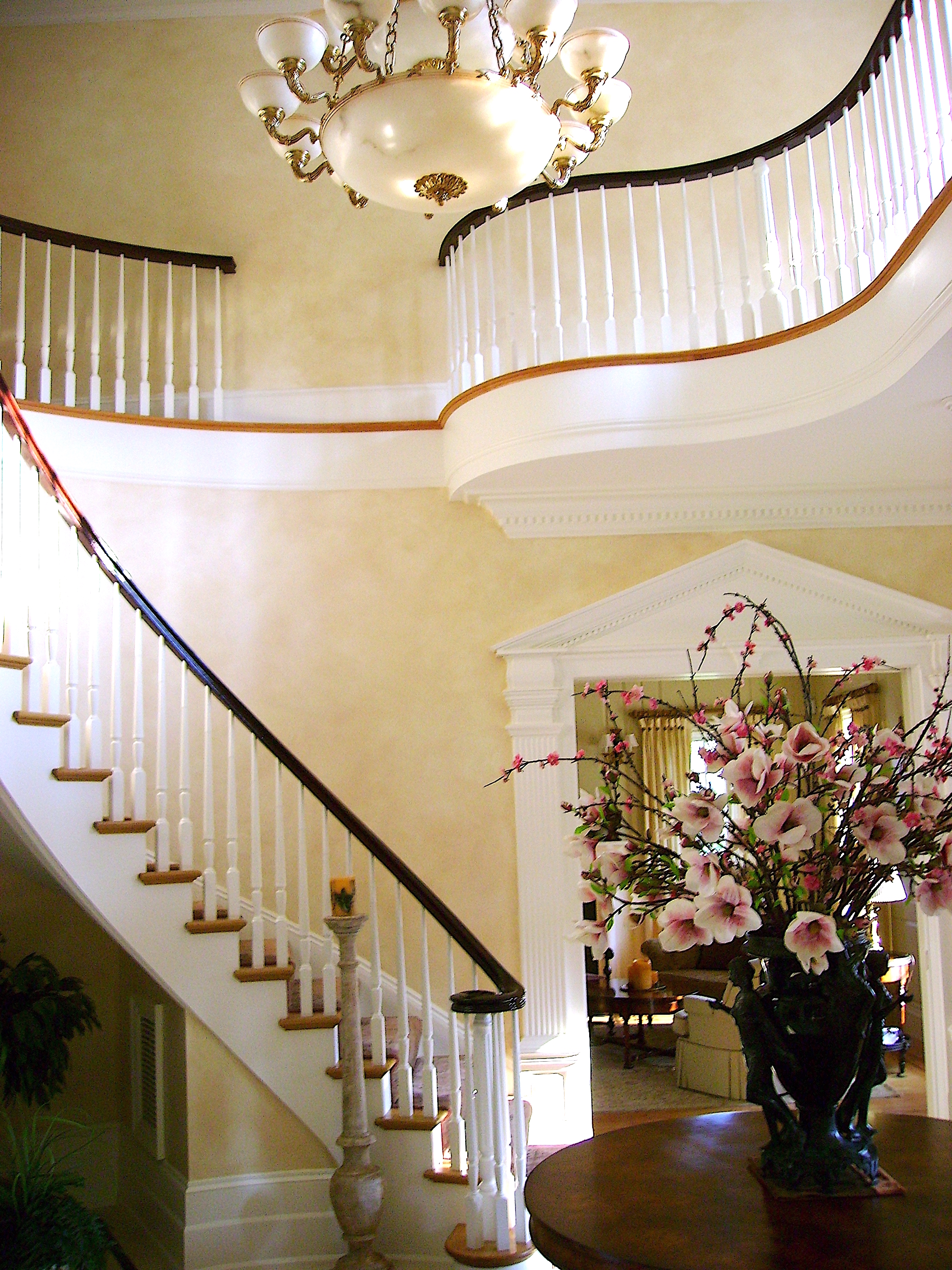 Beverly Hills, CA
This subtle multiple pass wall glazing takes on the look of beautiful aged old plaster, adding old world elegance to this foyer.
GLAZED YELLOW ORCHE STRIPED PAINTED WALL FINISH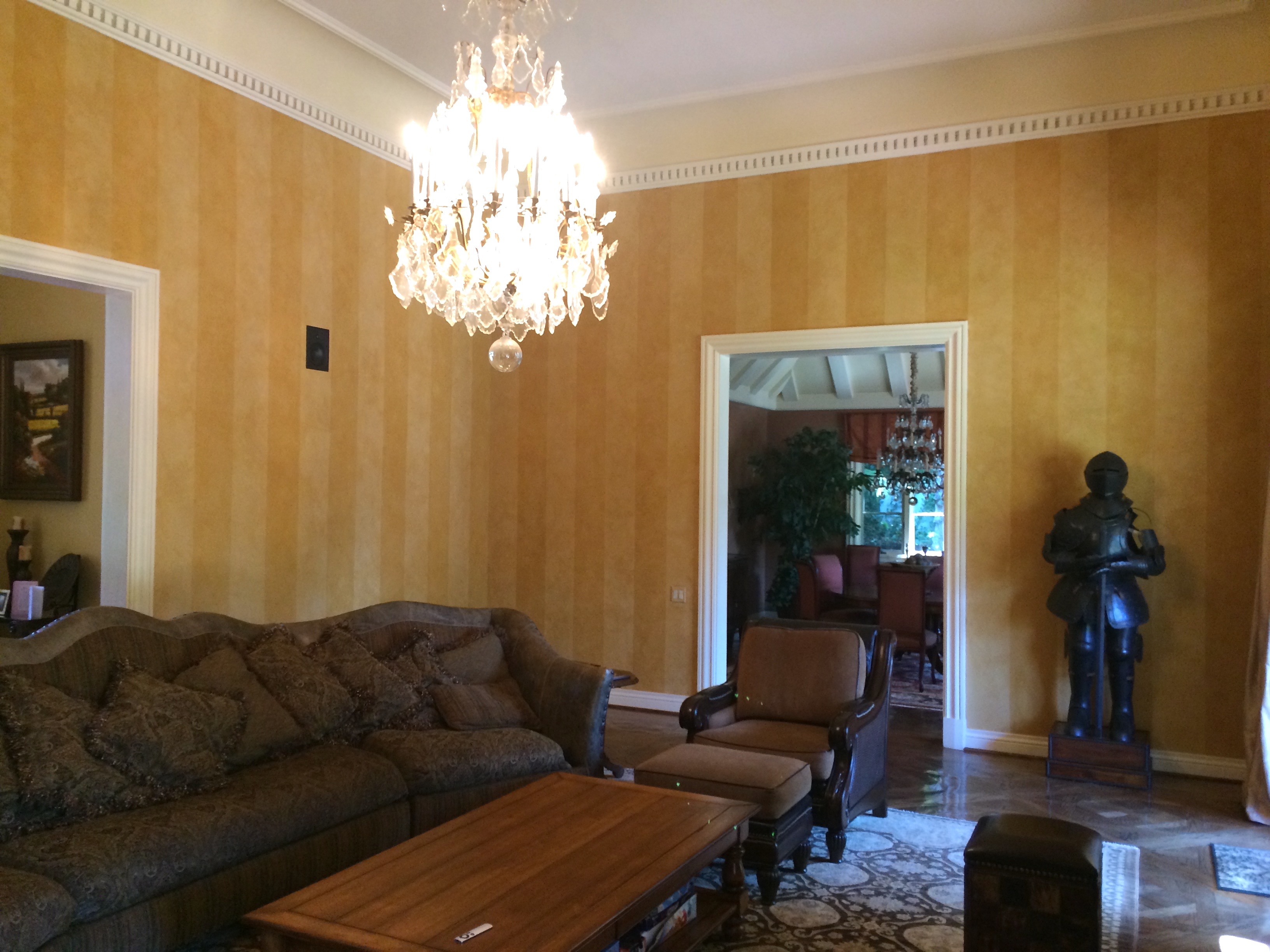 Beverly Hills, CA
The living room walls of this Beverly Hills residence come alive with old world beauty due to the aged yellow ochre stripe designed for the room. Total room size 925 sq. ft/282 sq. m
DINING ROOM GLAZED AND VARNISHED CEILING WITH GLAZED WOODWORK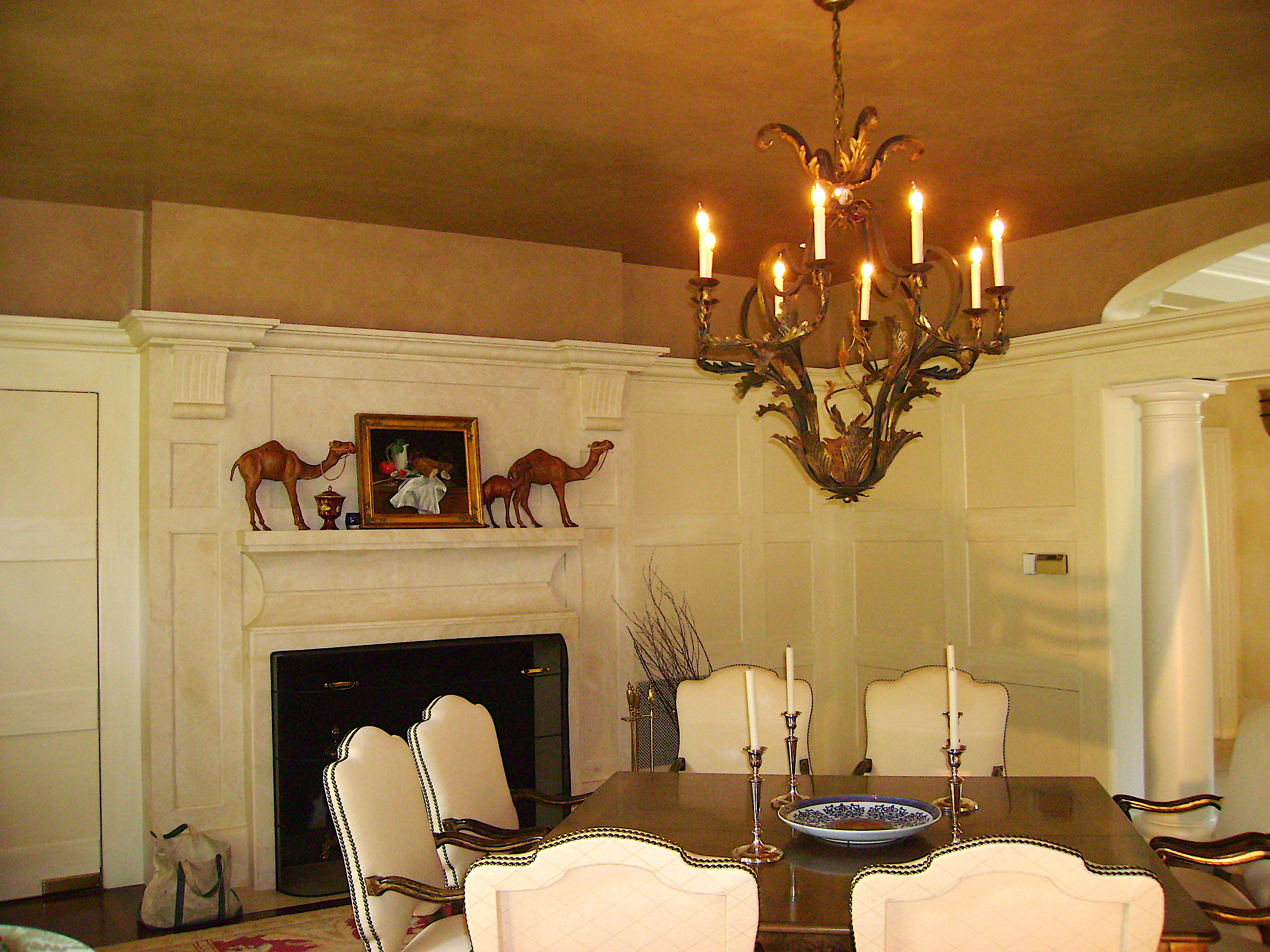 Weston, MA
This dining room ceiling was glazed to have a leather-like appearance. The wainscoting was glazed with both strie and stippled techniques. The upper molding of the fireplace is painted faux marble to match the existing stone mantle.
MOTHER OF PEARL INSPIRED LIVING ROOM CEILING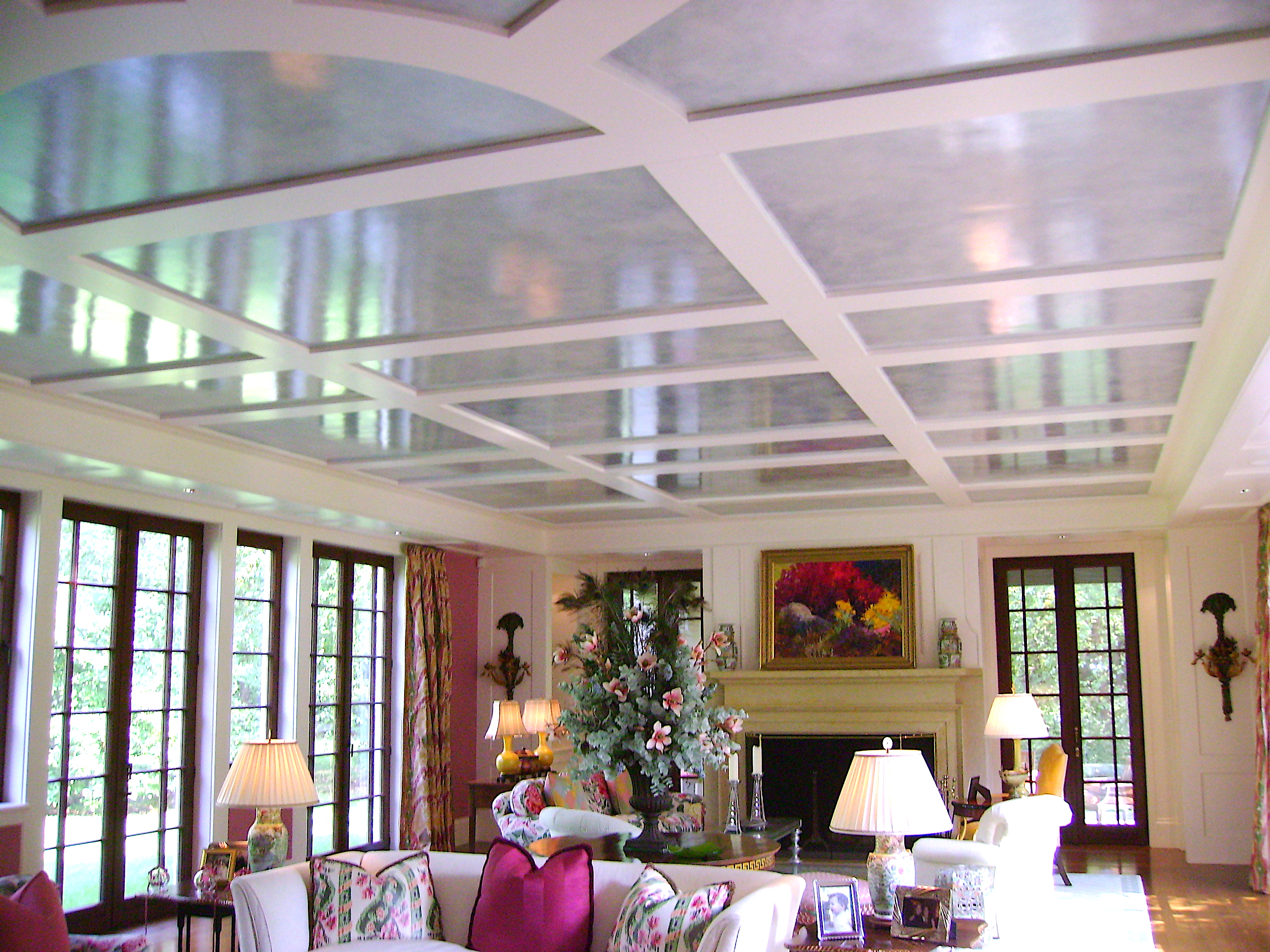 Weston, MA
This mother of pearl inspired living room ceiling finish required the application of 18 coats of paint and varnishes. During the evening hours the ceiling gives the illusion of sitting under a moonlit sea. 45 ft by 23ft/13.7m by 7m
PAINTED PICKLED FIR WOOD GRAINING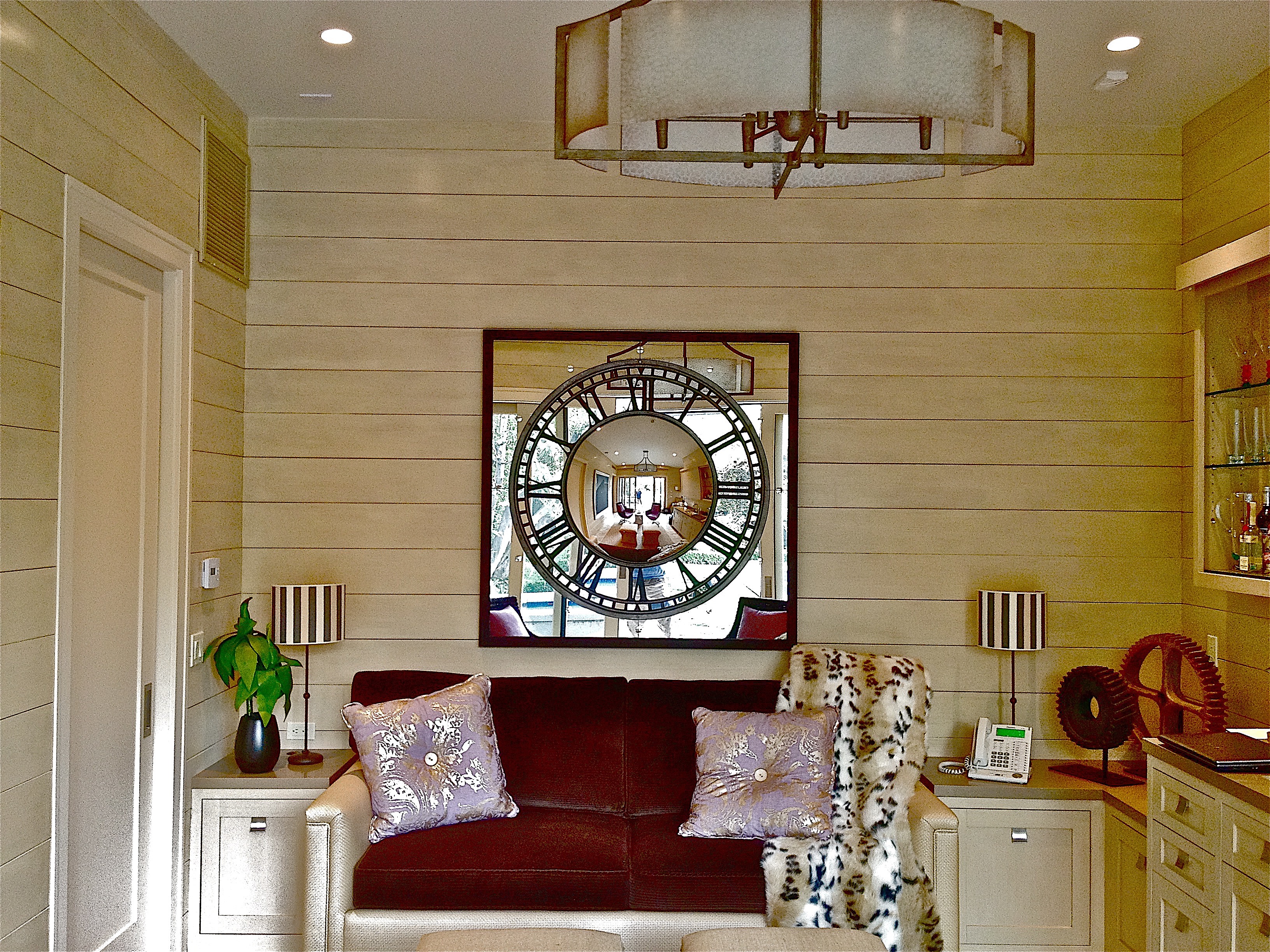 Pasadena, CA
The fir paneling and cabinetry of this guest house was glazed with a series of various whites to give them a white-washed beach look.
COPPER PATINA FAUX FINISH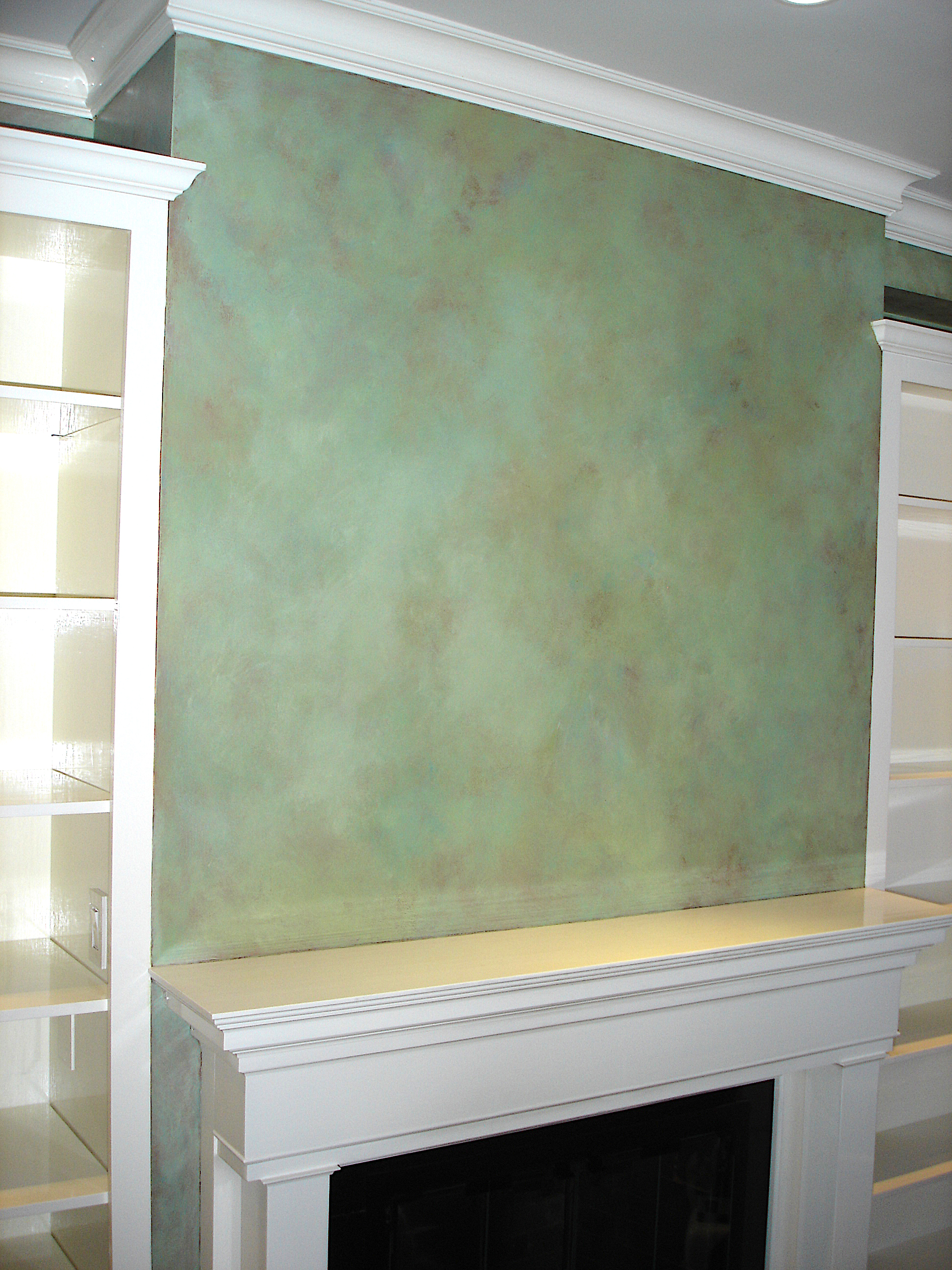 New York, NY
The look of copper patina was the inspiration for these walls. The use of high gloss white paint on the woodwork frames the wall finish beautifully.
SILVER AND PEARL BRUSHED FINISH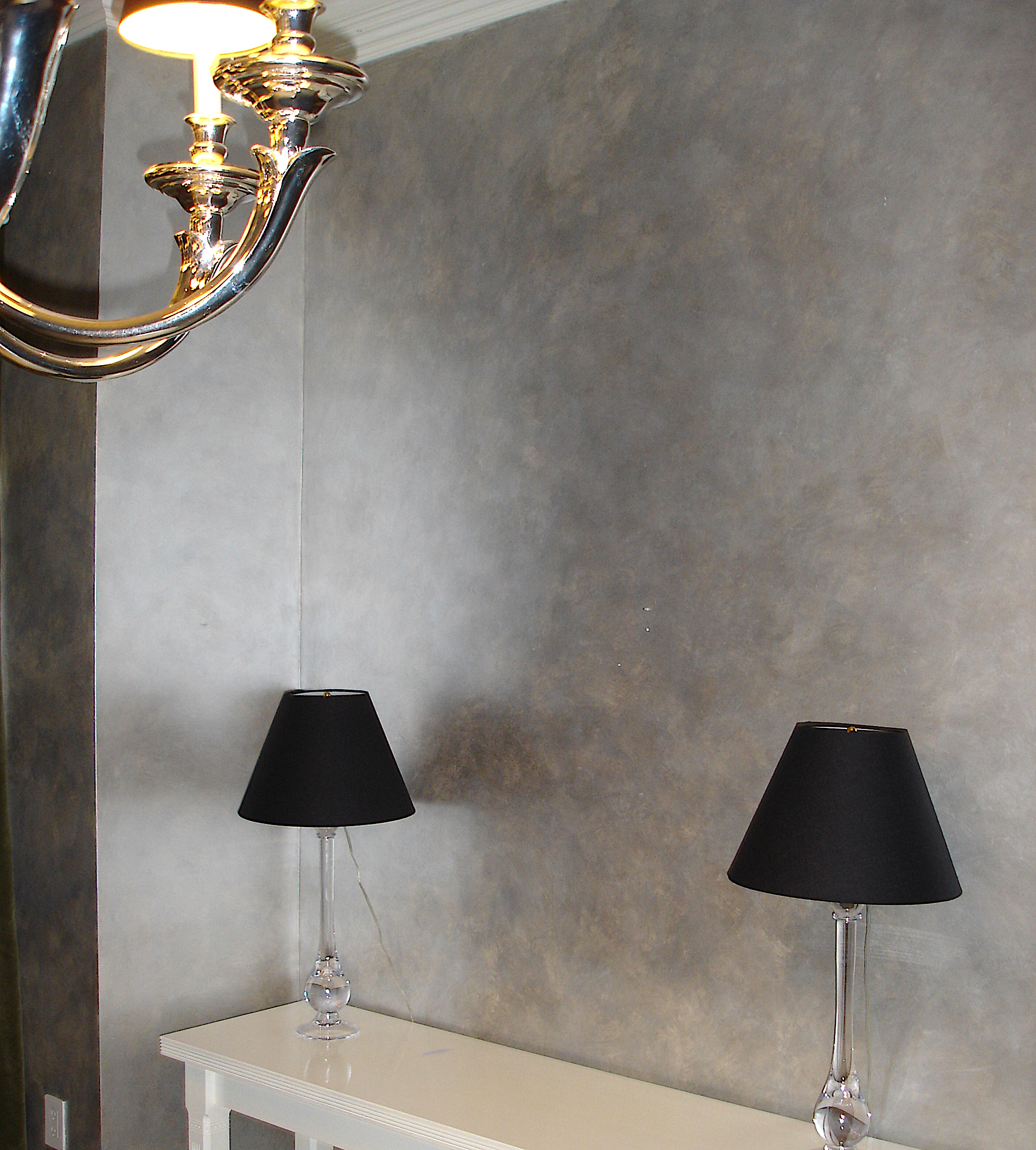 New York, NY
Elegance prevails with this combination of many layers of silver and pearl paint used in this wall finish.
DINING ROOM HIGH GLOSS PAINTED FINISH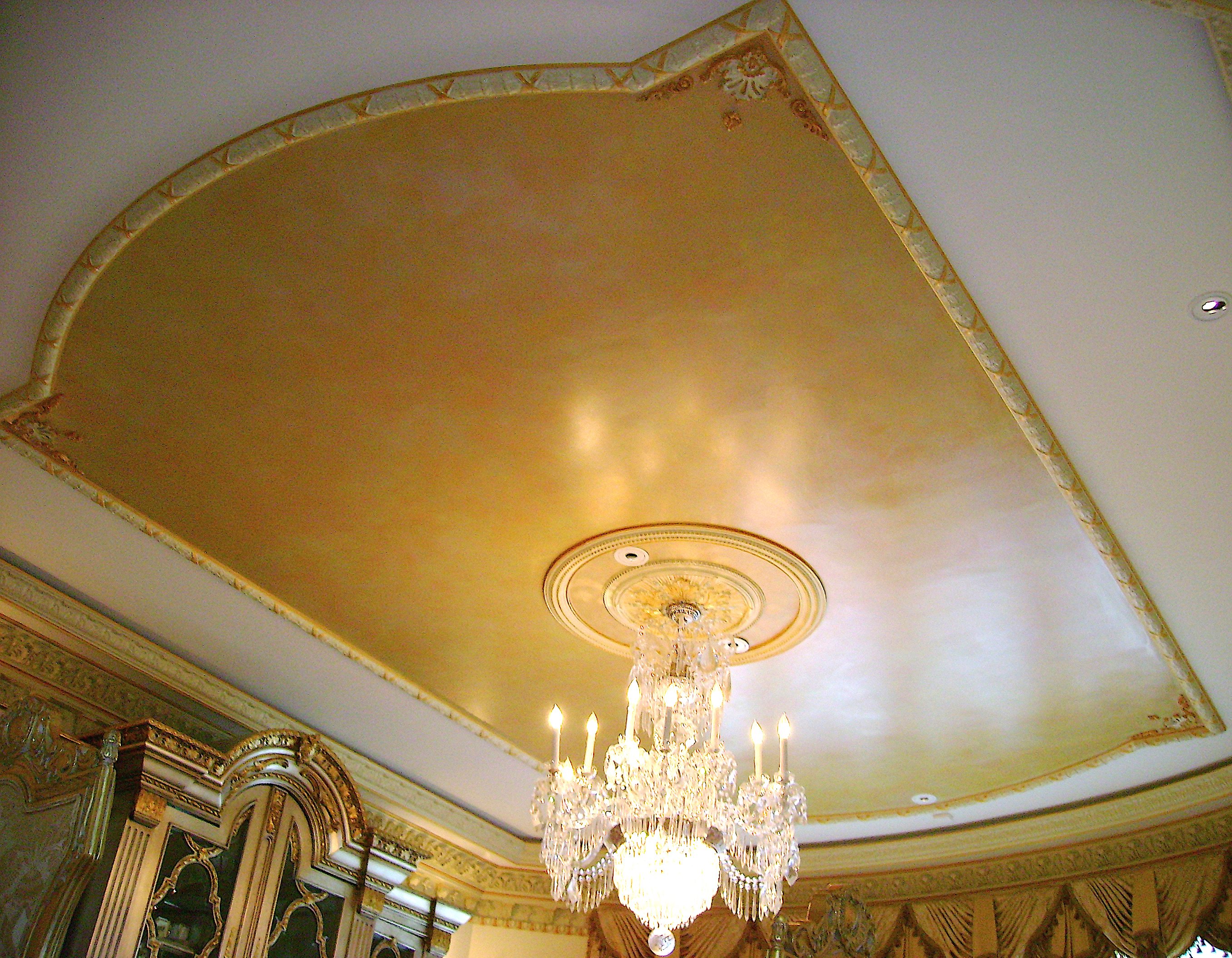 Bel Air, CA
This ceiling finish incorporates the various colors of this dining room's color scheme to act as a unifying design element and finished with a high gloss varnish for a mirror-like appearance. 12ft by 6ft/3.7m by 1.8m
PAINTED FAUX COPPER CEILING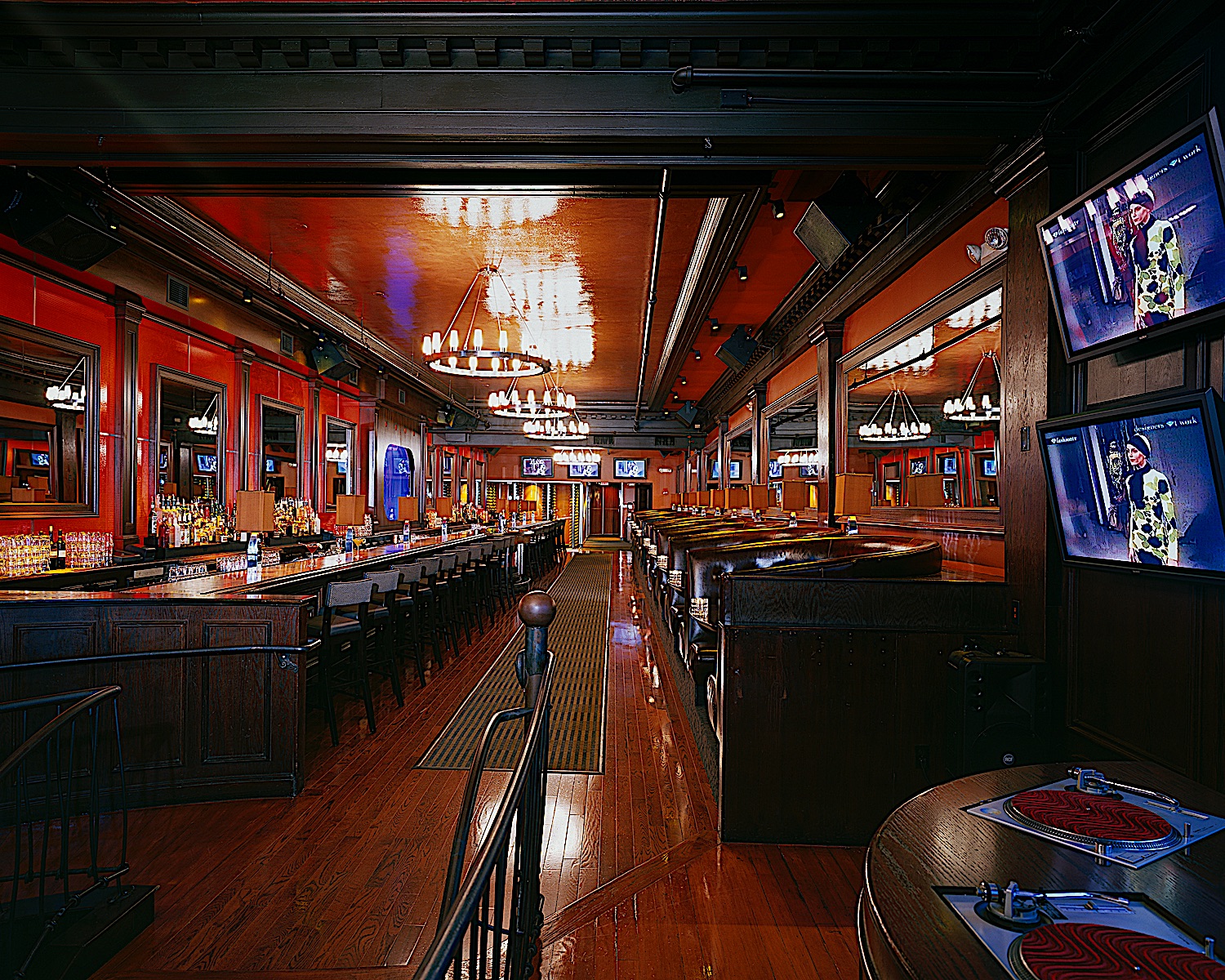 TERRA COTTA FAUX FINISH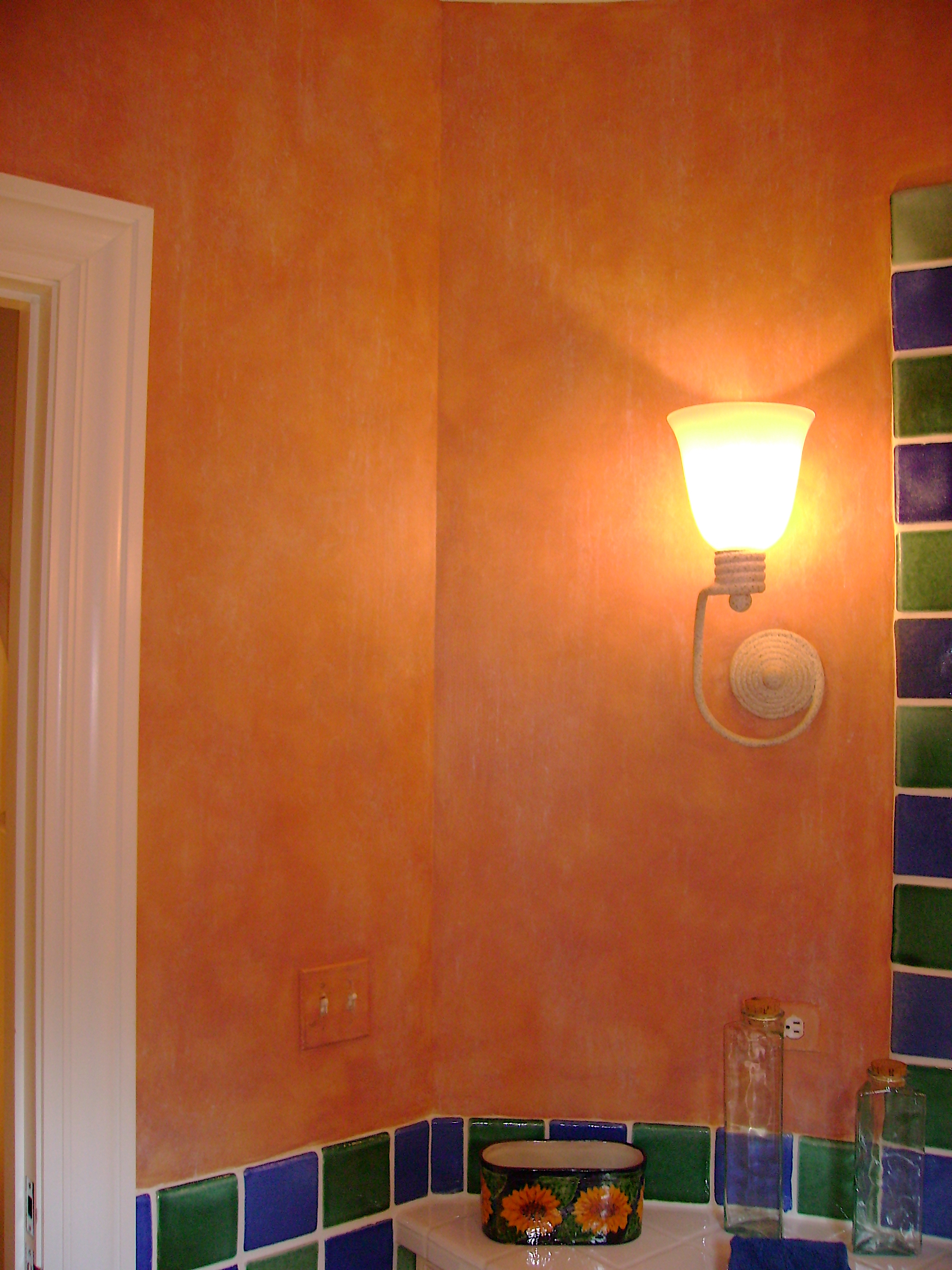 Los Angeles, CA
The intense saturated terra cotta color was used to compliment the colorful tiles used in this lively powder room.
Boston, MA
This deeply glazed metallic copper ceiling with a high gloss varnish perfectly crowns off this contemporary design. 8ft by 40ft/2.4m by 12m
PARISIAN BRASSERIE INTERIOR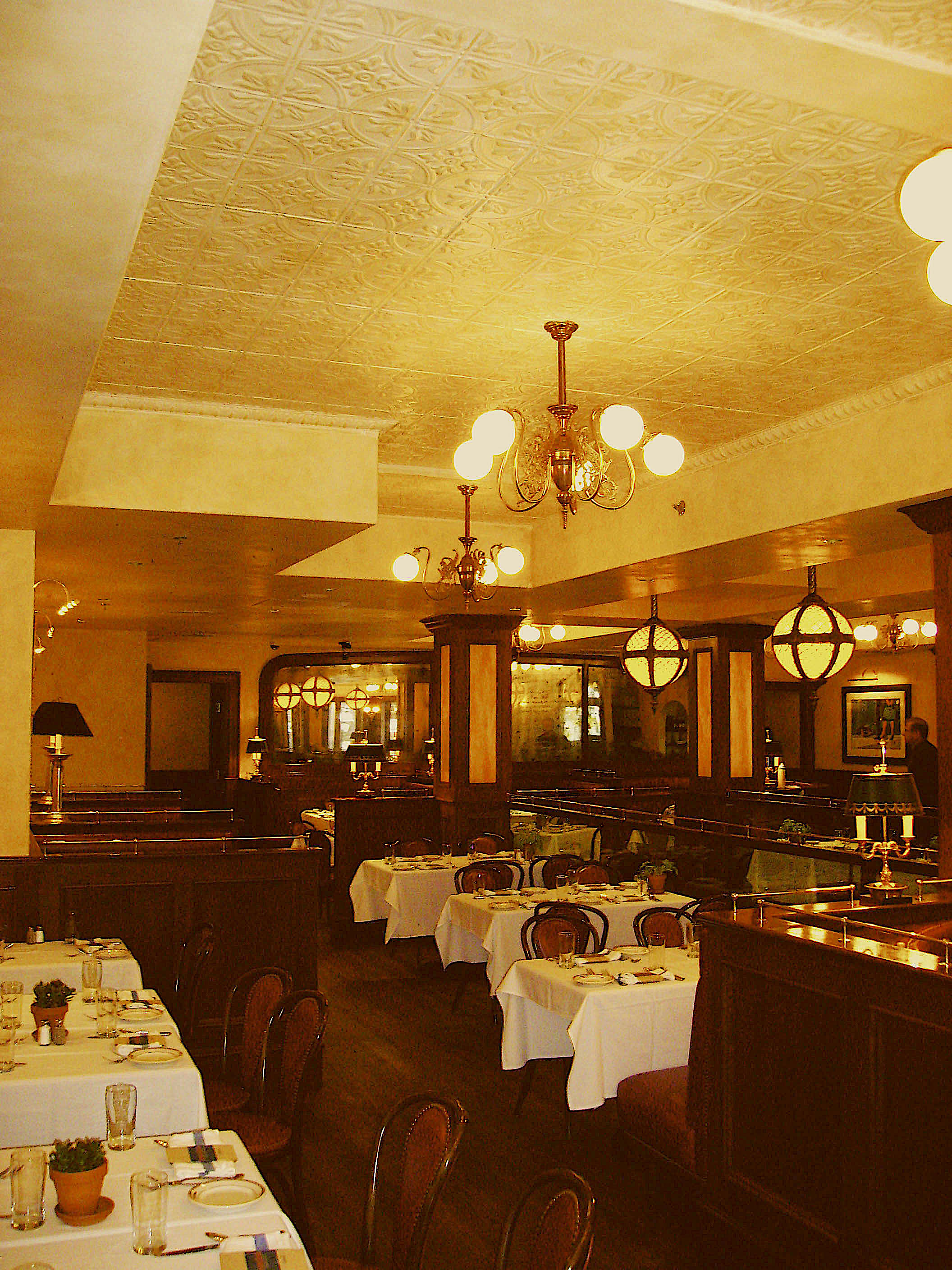 Boston, MA
This restaurant was painted to create the authentic look of a classic French brasserie.
STIPPLED WALLS WITH FADED TROMPE L'OEIL PAINTED MOLDINGS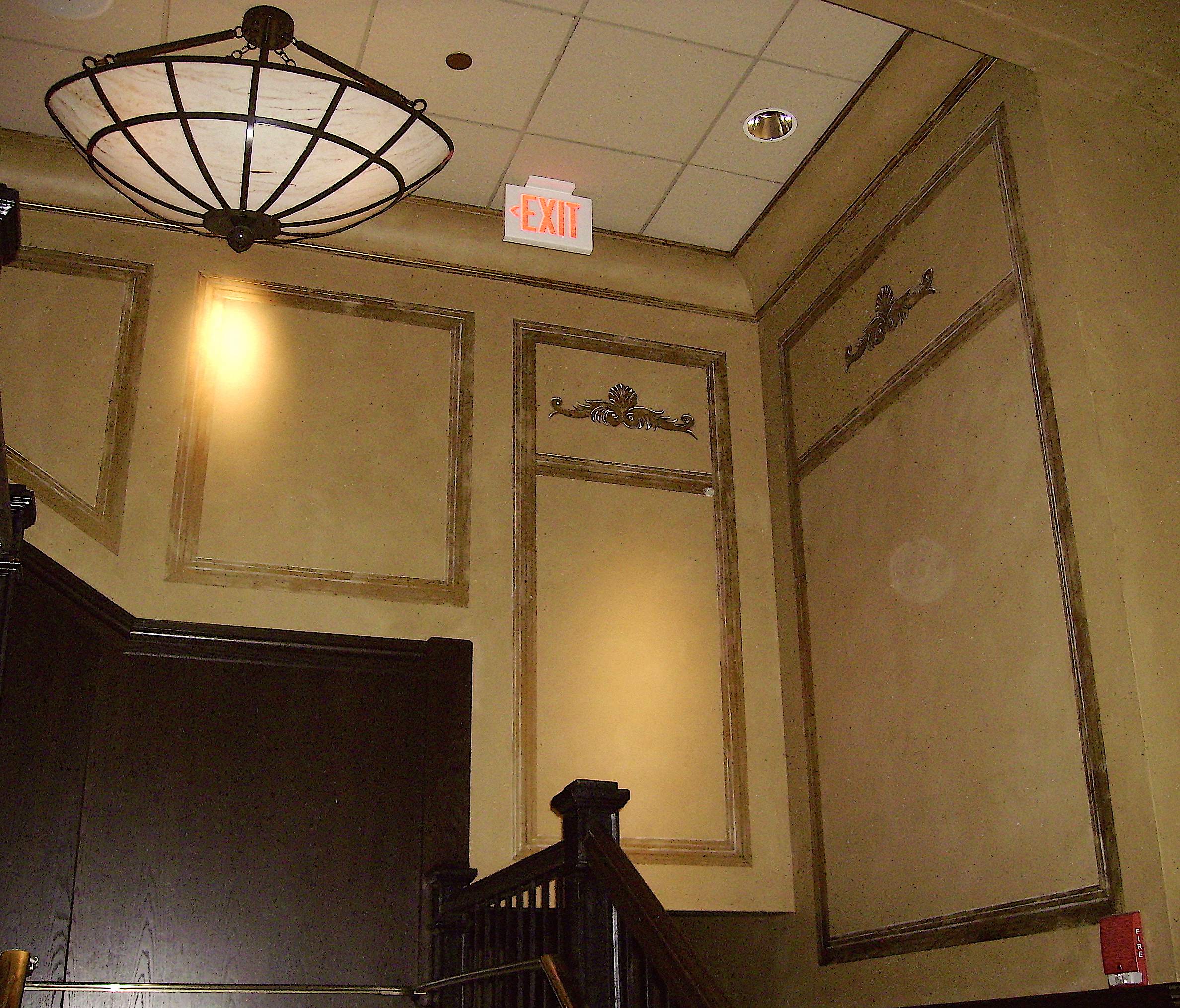 Eastern Standard Restaurant, Boston, MA
These stippled walls with tromp l'oeil moldings painted to look faded with age, add a unique feel to the French inspired interior of this restaurant.
TEXTURED BRUSHED FINISH WALLS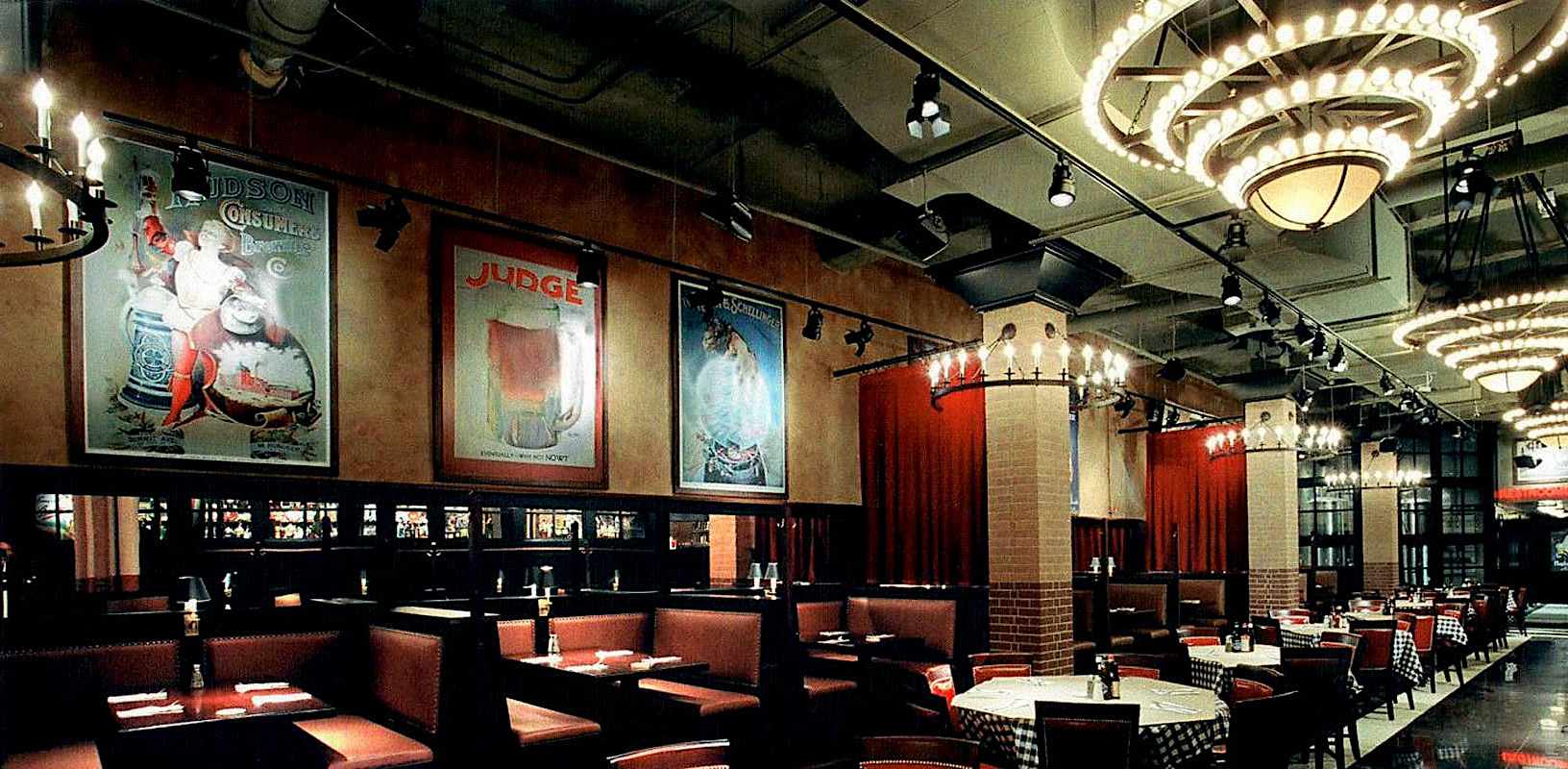 Heartland Brewery, New York, NY
This large scale heavily textured brushed finish visible behind the vintage posters works in harmony with the rough concrete walls. 10ft by 60ft/3m by 18.3m
GOTHIC INSPIRED INTERIOR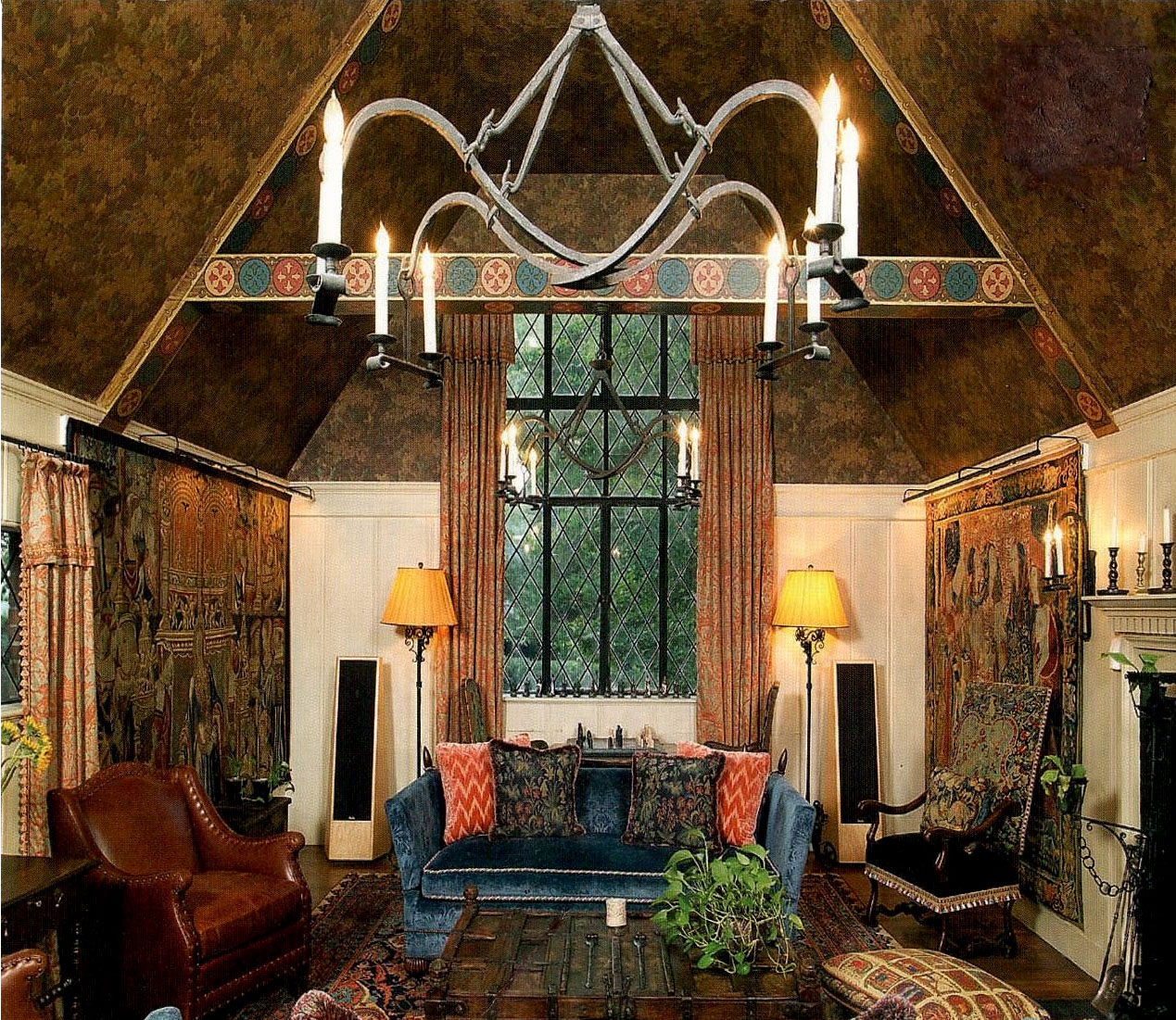 Los Angeles, CA
The hand painted beams, painted ceiling and glazed wainscoting all serve to compliment the furnishings of this gothic inspired room.
TUSCAN INSPIRED FAUX FINISH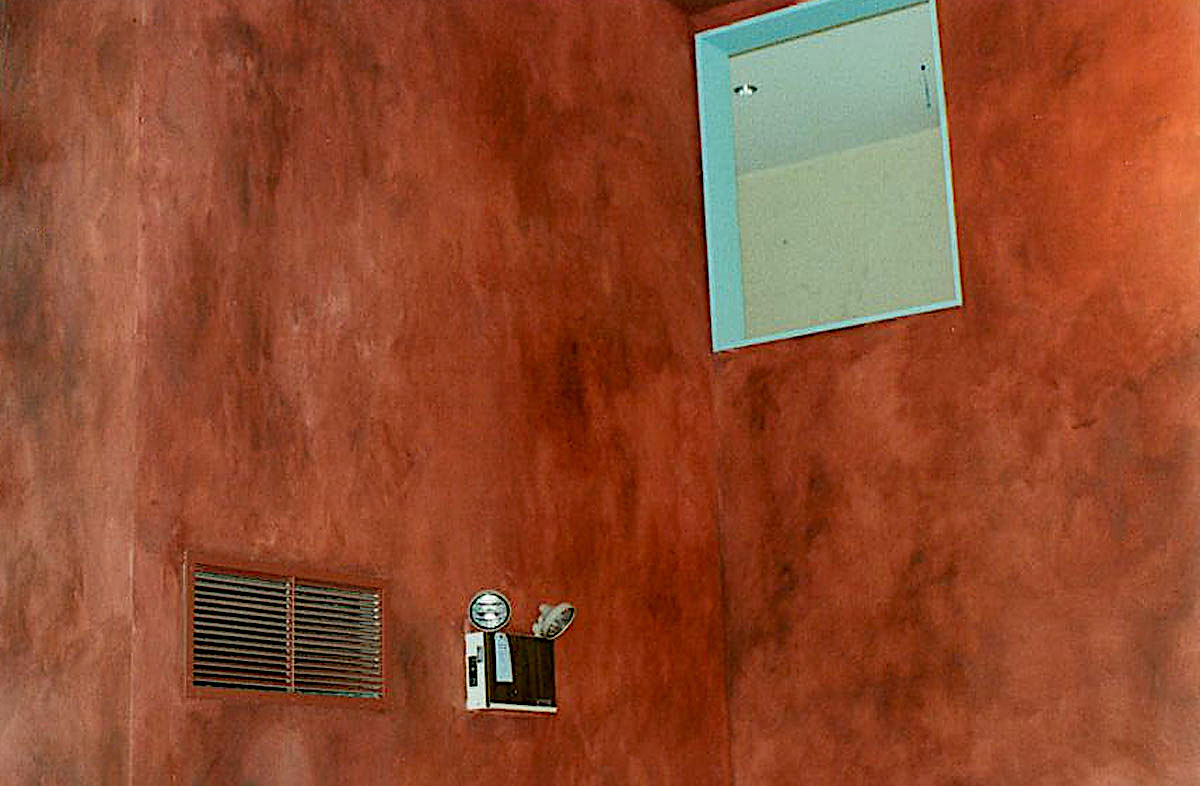 This heavily textured brushed finish is painted to look as if it is a naturally aged deep red ochre exterior wall. Total sq. ft 425/total sq. m 129.5
WOOD GRAINED EXTERIOR GATE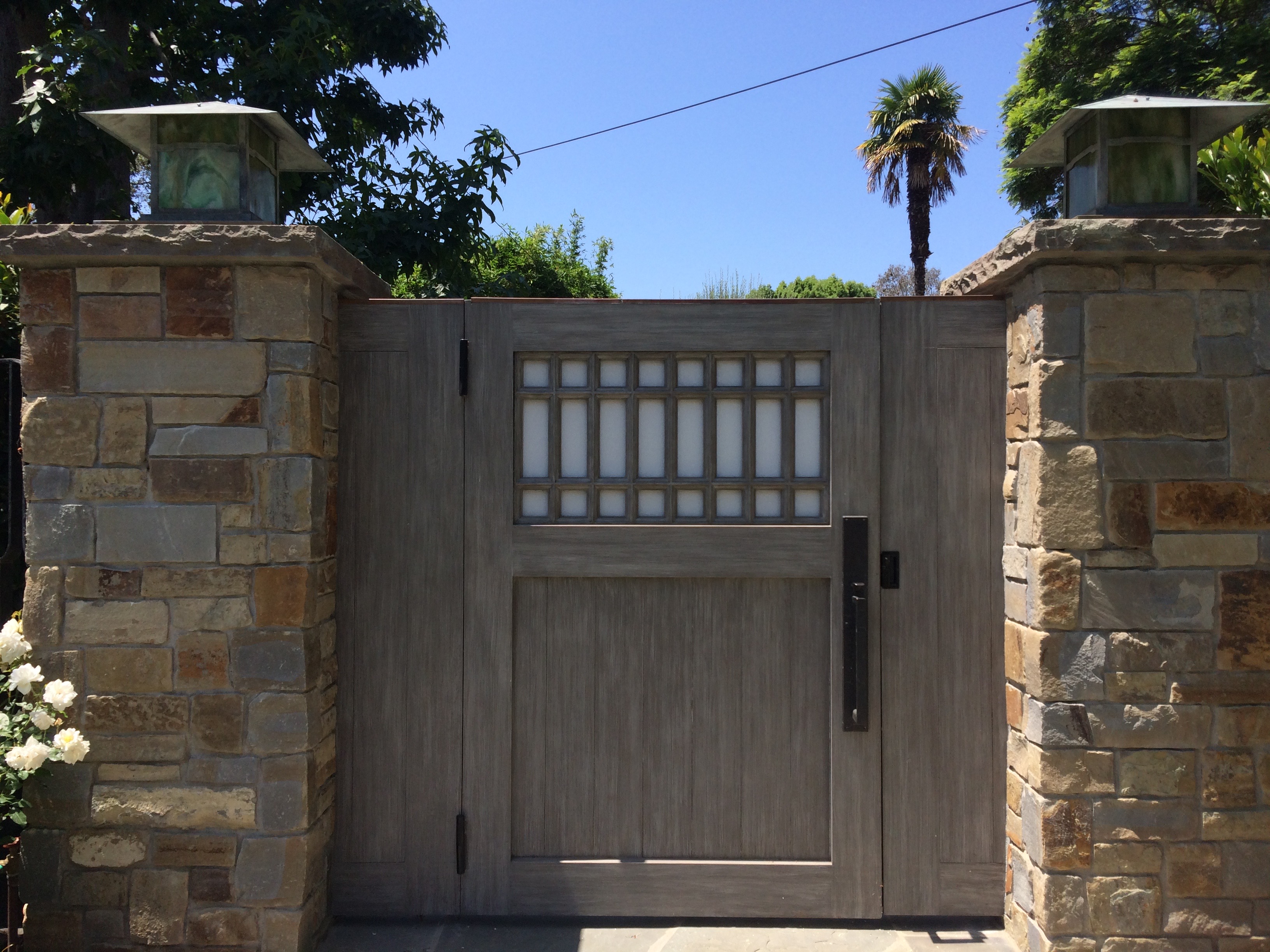 Brentwood, CA
This gate was painted with multiple layers of paint taken from the surrounding stone to resemble beautifully aged wood.
FAUX AGED GRANITE PILLARS AND CAPITALS
Beverly Hills, CA
These pillars are given weight and interest by painting them with a faux granite finish, then aging them with black for the look of age.
FAUX LIMESTONE VENTHOOD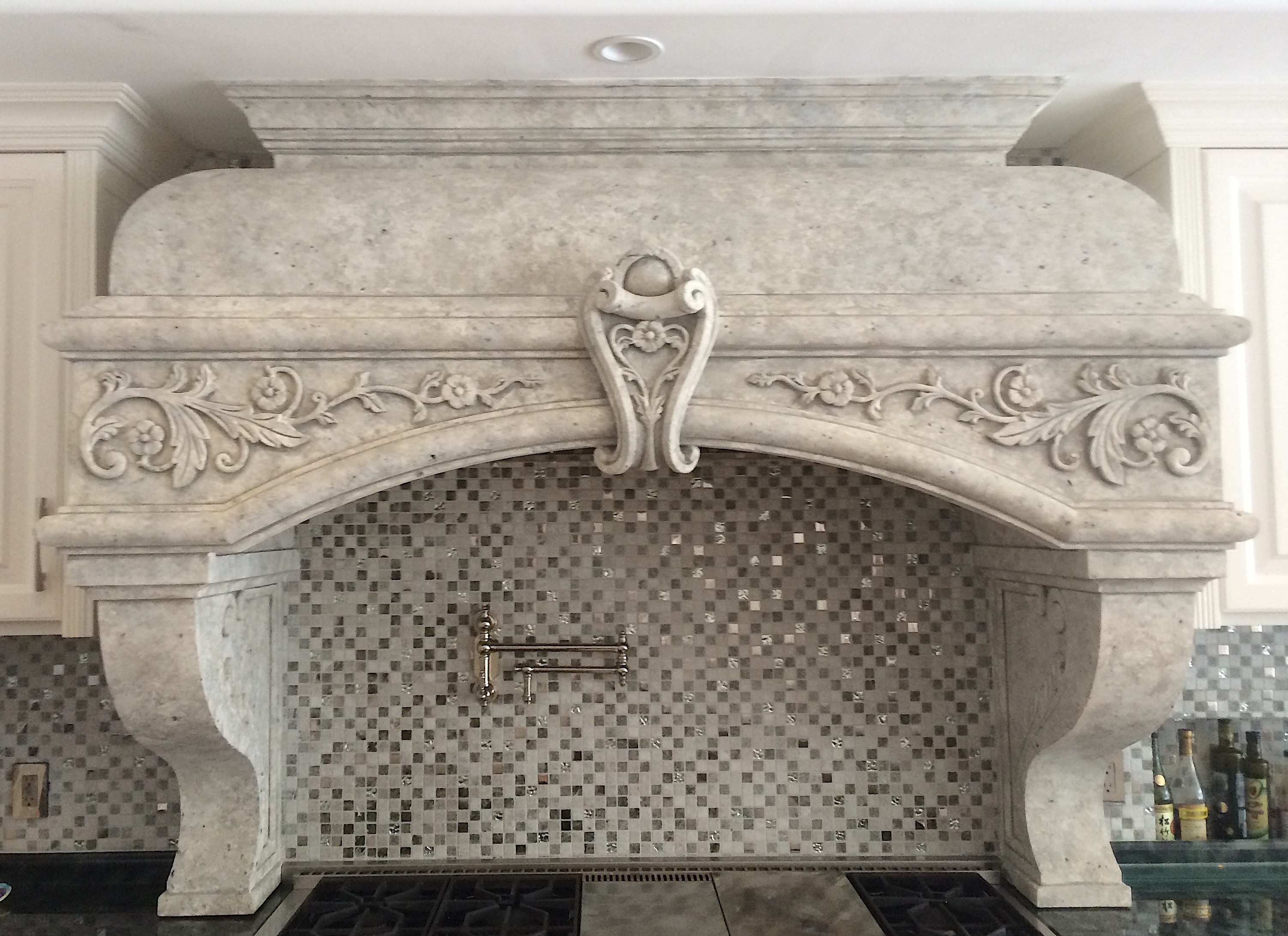 Beverly Hills, CA
This cast stone vent hood was originally a yellowish-brown. The client wanted the look of aged stone complimenting the cool grays of the surrounding tile.
FAUX AGED GRANITE FIREPLACE SURROUND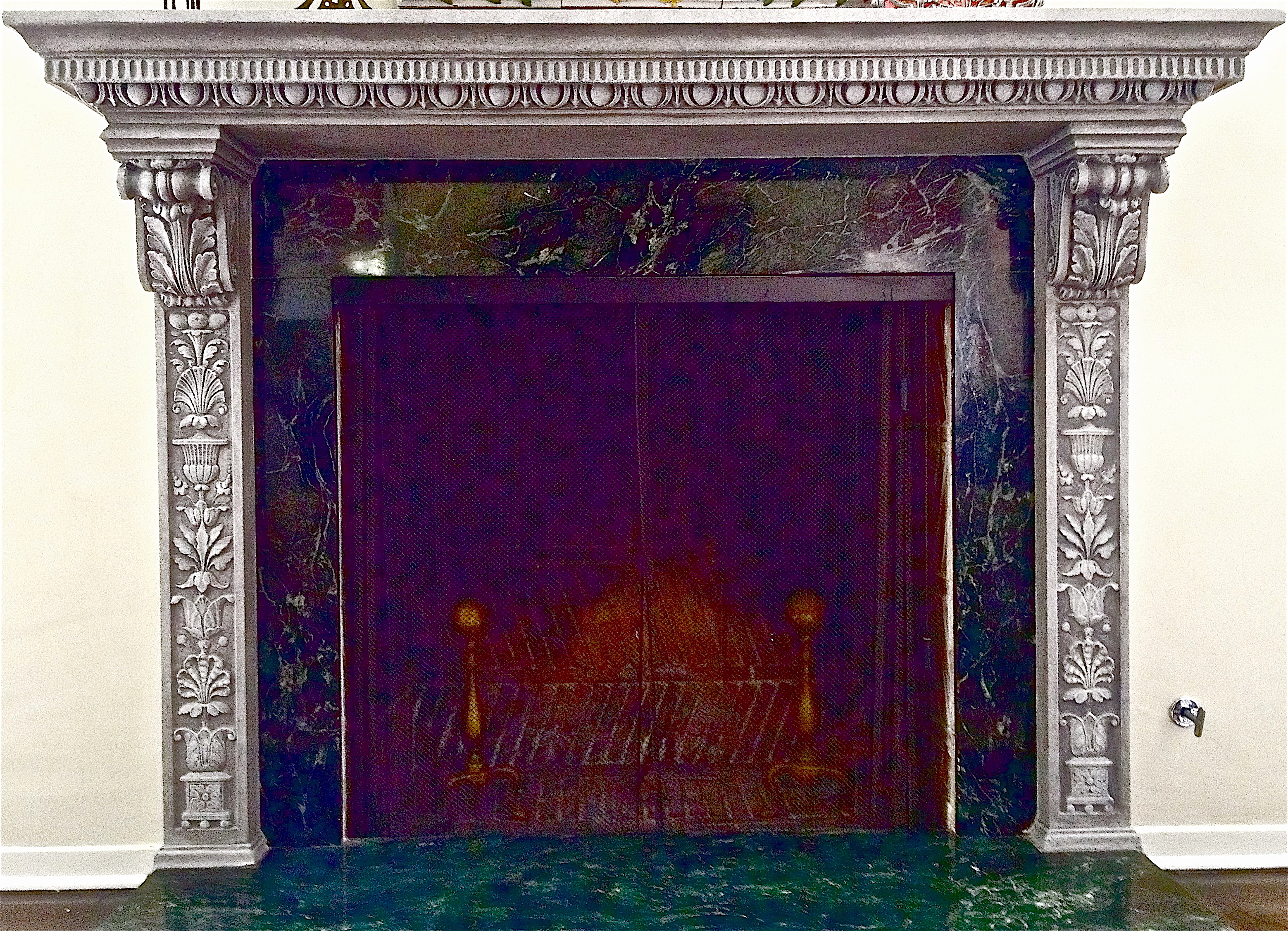 Beverly Hills, CA
This fireplace surround has a casual elegance with its aged faux granite treatment.
---
Let's create something together.
---